Healthy Whole Grain Salad With Pomegranates
This is my favorite Whole Grain Salad With Pomegranates. A few of my neighbors grow Pomegranate trees or bushes but I haven't tried growing them yet. My parents always had them in their yard. Sometimes when I'm at Costco they have some ready to eat ones in a container, I just buy those. Sometimes they are really sweet and sometimes not as sweet.
I combined all the grains with some fruit…..fabulous! I will be showing you some more grains you can use and how to make them quick and easy for mealtime.
Whole Grain Salad With Pomegranates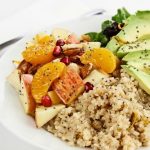 Whole Grain Salad With Pomegranates
Ingredients
½

cup

red quinoa

½

cup

black quinoa

½

cup

white quinoa

1

cup

Kamut (Trademarked)

1

cup

fresh Pomegranates

1

cup

chopped apples

1-11

ounce

can Mandarin Oranges, drained

1

cup

freeze dried Red Grapes (not reconstituted)

1

cup

fresh Blackberries

Salad greens to layer on a platter

set aside

Freshly grated pepper

Your favorite Olive Oil and Balsamic Vinegar. For this salad I used the following ones:

Cranberry Pear White Balsamic Vinegar

Blood Orange Fused Olive Oil
Instructions
Cook the three colors of quinoa together as directed on package. Cook the Kamut as directed on package. Drain the grains. Combine all of the grains in a very large bowl after cooking. Add the remaining items (excluding the vinegar and oil) and mix together.

Place a layer of salad greens on a platter. Mound the salad on top of the salad greens. Drizzle with your favorite Balsamic Vinegar and Olive Oil. Pepper to taste.

You can add your favorite fruits and switch out the grains with just about any grain you enjoy eating! Red, White, Black Quinoa and Kamut are great food storage items. Add a little can of Mandarin Oranges and some Pomegranates and your dinner is ready! Thanks to Chef Brad for teaching me to use grains. Enjoy!