Valley Food Storage Review-Located In Orem, Utah
When James Talboe from Valley Food Storage located in Orem, Utah contacted me, I was very excited to try their products. There are very few companies that can make a statement like this:
You can pronounce all our ingredients
No hydrogenated oils or nasty preservatives
Up to 25 years shelf life
Durable, resealable packages
Nitrogen flushed
Seriously good taste!
I decided I would invite a few friends over for a food storage dinner complete with cornbread muffins. It was actually a very easy dinner to prepare because all I had to do was add water and boil, or in the case of the cornbread muffins, add water then bake them. Here's the deal, I wanted my friends to be aware of how easy it is to prepare some food storage for meals and show them that the food tastes fabulous at the same time!
So let's get started. Look below to see how I set the table complete with a menu card. I wanted everyone to know that the food has a 25-year shelf-life, no MSG, no trans fat, contains sea salt and all you have to do is add water. Easy peasy.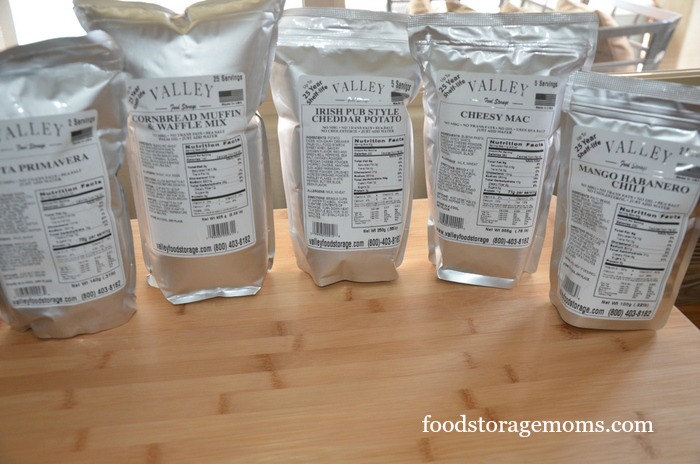 I wanted place cards by each place setting so everyone would know the menu for the night. I invited seven people. I will have a breakfast meal post very soon, so stay tuned for that one.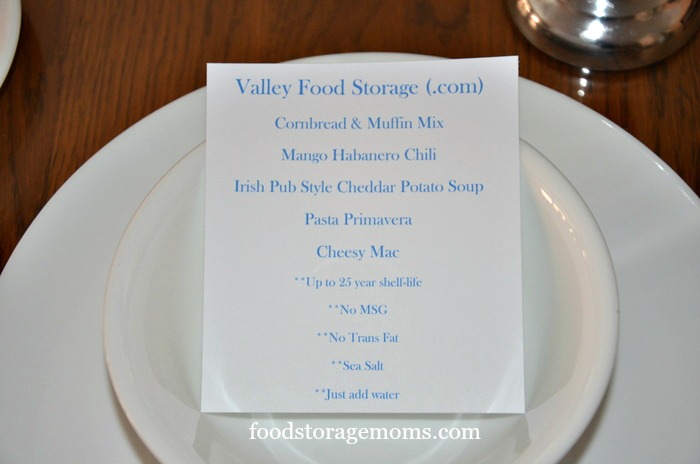 Here is my BFF, Kathleen tasting the Mango Habanero Chili! Oh my gosh, is it delicious! I had all four pots of the food storage cooking at the same time. I served dinner at 5:00 P.M. and put all the hot pans on the kitchen counter for everyone to scoop and try each one. I was very anxious to try the Cheesy Mac because we all know kids love mac and cheese. It's a true winner in my book! It's creamy and is by far the best mac and cheese I have ever tasted. It tastes like homemade, yummy!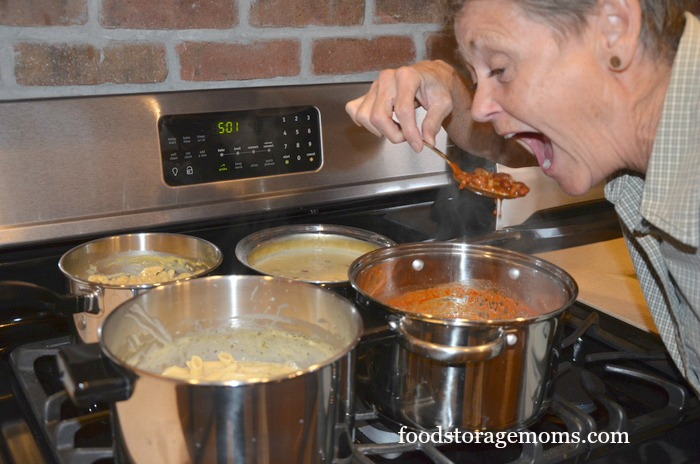 I also served the Irish Pub Style Cheddar Potato Soup which tasted great and cooked up faster than the other packages. The reason I point this out is the fact you will use less fuel when preparing this package. Love it!
The Pasta Primavera got the highest number of votes (if I had taken votes), or should I say it was the most popular of all the dishes that night. I must say, the Mango Habanero Chili was a bit too hot for my husband, but Kathleen and I could eat it every day. It truly is one of the best tasting chili offerings I have ever tasted. It's just like homemade. It does have some kick to it, but man is it good!
Now onto the cornbread muffins. Oh my gosh, everyone loved them! Plus, you can make cornbread waffles with the mix! All you do is add water. The muffins are moist in the center and did not crumble. Everyone wants this mix!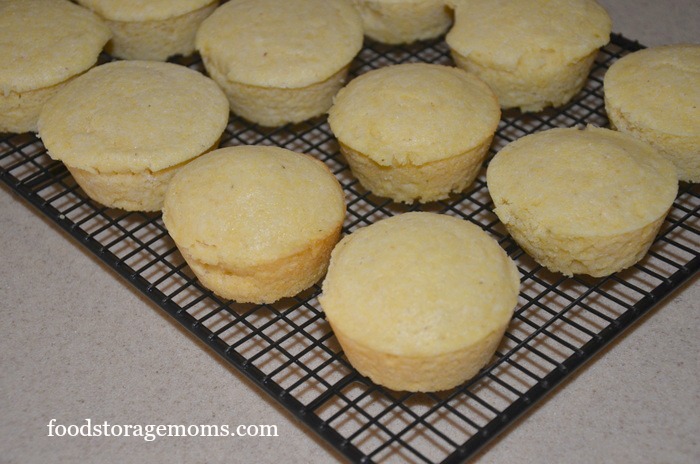 This statement is off of the Valley Food Storage website:
"We get the question all the time "Why should I get Valley Food Storage food over this other company's food?" We simply hand them a bag of our food and say "Go ahead read our ingredients." The differences will amaze you, and the taste will leave you thinking you just had a home cooked meal. Really, we mean that just check out our reviews page our food is amazing!
When we prepare our foods, we take great care in making sure what you get is the best product on the market. We eliminate all the unhealthy preservatives, hydrogenated oils, MSG's and many other ingredients that limit the nutritional value, shelf life and taste. What you are left with is simply the highest quality long term food storage you can find.
Your next question will be "Ok, sounds good but how did you do it?" The simple answer is we got together with our food scientists to come up with recipes and and processes that will give us the products we wanted. The next step was to go out and source the individual ingredients to ensure quality, not just buy them wholesale from the biggest factory. Then we go through the long process of freeze drying and/or dehydrating the foods and combining them into an amazingly high quality individually nitrogen flushed Mylar bag. When we prepare our foods we take great care in making sure what you get is the best product on the market.
Our Commitment
We completely stand behind our food and we are proud to now offer it straight to the public. If you are unsatisfied in any way we will make sure that we do everything in our power to make it right, including buying back the food. With Valley Food Storage you can be sure you are protecting you and your family with the best food storage on the market today! But dont just take our work for it get your sample today!"
I hope everyone remembers to have food storage in their pantry. I highly recommend this company, you will love their products! Here's to being prepared for the unexpected.