"The Food Storage Moms Emergency Binder Contents" by Linda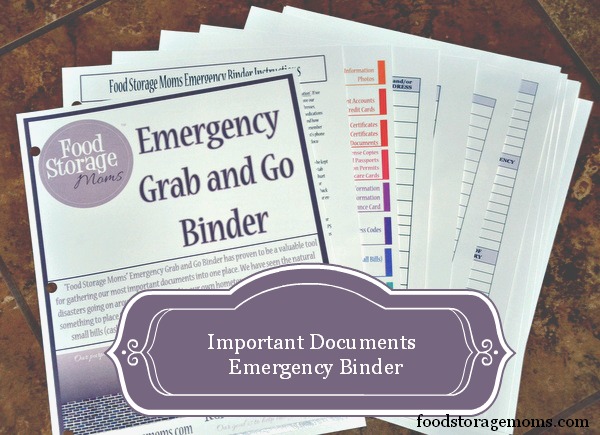 I have been working hard on this binder to make it easier and more convenient for you to put your important documents together.  I have put it together with an instruction page that explains the reason what is needed in each tab section and why we need it.   It has 10 labeled tabs and the pages are all ready to fill in.  The pockets are there and ready for you to place all your important documents in. I have zippered pouches for passports, etc. Another pouch for small bills 1′s & 5′s in case we lose power and can only use cash.  No debit or credit cards can be used without power in most cases.  It also has sections to hold our Marriage Certificates, Birth Certificates, etc. Another one for Church Documents, School Documents, etc.  I put in a Picture Pouch in case we need to give, post or show a picture of a loved one if we become separated from them. There are too many items/pages to mention.You can just Grab and Go with this "Binder"  and feel secure you have your documents and information at your fingertips.
I no longer provide the full binder for purchase. The contents to fill out are on my homepage. There is a picture of a purple book on the right-hand side to click and download for FREE. I have a list of items you may want to add to your binder included in the download. Thanks for wanting to be prepared for the unexpected.
Food Storage Moms FREE Printable Emergency Binder Download  Please be patient for it to load and the PDF document should show up on your computer on the bottom left-side of your laptop or computer monitor. Once the document finishes loading it will be ready to click and print. I prefer printing it on cardstock, and it's actually in color if you want to print with a color printer.