Swiss Cheesy Potatoes Easy To Make Recipe
This Swiss Cheesy Potatoes Easy To Make Recipe uses everything in my food storage pantry or refrigerator. I love dehydrated sliced potatoes because I can open the number of bags I want to use and rehydrate them in water for 45 minutes and they are ready to mash, bake, or fry. The dehydrated potatoes come in a bucket and I never have any waste with potatoes that I forgot to use the fresh vegetable container in my kitchen.
The bucket I used today comes with 20 Mylar bag pouches inside. If I had a large family I would purchase the potatoes in #10 cans or in bulk because I would use more than just my family of two would use each month. Of course, fresh potatoes will work with this recipe, but I use my freeze dried and dehydrated food every day so I want to share my recipes with you. I am not fond of grocery shopping, so the more food I have at my house the more $$$ I save by not going to the store. Dehydrated Potatoes #10 Can
The reason I love this recipe is that I can make and bake it in about an hour if you use fresh potatoes. You can make it with dehydrated cubed or sliced potatoes. Just re-hydrate your potatoes according to the brand of dehydrated potatoes you have stored.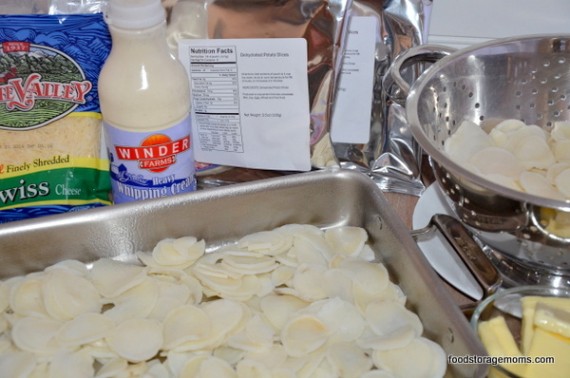 Swiss Cheesy Potatoes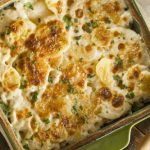 Swiss Cheesy Potatoes by Food Storage Moms
Ingredients
3

packages-3.5 ounce dehydrated potatoes

re-hydrate according to your brand of potatoes-mine takes 45 minutes covered with water and drain or fresh potatoes sliced, peeled or cubed to fill a 9 by 13-inch pan about ½ full because you will add the cheese

3-4

cups

grated Swiss Cheese

depending on how cheesy you want yours

½

cube of butter melted

1

tablespoon

minced onion

I use freeze-dried

1

cup

whipping cream

Salt & Pepper to taste
Instructions
Preheat oven to 350 degrees. Place ½ of the rehydrated potatoes in a 9″ by 13″ greased pan. Next, layer with ½ of the cheese, sprinkle the minced fresh or freeze-dried onion over this layer. Add the rest of the potatoes and drizzle the butter over this layer. Add the rest of the Swiss cheese and pour the whipping cream over the last layer and salt and pepper to taste. Cover with foil and bake for about one hour, or until heated through and bubbling.