This area really concerns me the most above and beyond water, food storage, and emergency products. In other countries we hear about some very dreaded diseases like Cholera, Malaria, Typhoid, E-Coli, etc. If we are faced with a situation where no electricity is available, guess what…our city sewage pumping stations could stop functioning, then sewage backs up. Sewage can get into the streets, our water, our lakes, etc. I am not a scientist or micro-biologist….but bacteria is bacteria. We could have some really bad bacteria to deal with. Here is the deal, please get your neighbors and friends to purchase, make a "potty chair" or purchase  a "Reliance Luggaloo" available on Amazon.com. Beprepared.com has some as well. I purchased this one from Shelf Reliance.You can purchase 500 clear 10 gallon bags at Sam's Club or Costco for about $10.00. This is a lot cheaper than the "green" bags….sorry..but waste is waste. Please get a potty chair and bags….lots of bags. And a shovel to bury our waste material. I hope we never have to use them but if we do we will be prepared……..
Other suggested items to collect and store:
Toilet Paper and Paper towels
Sanitizer……..lots of sanitizer…keep rotating it
Soap, bar soap, liquid soap, dish soap
Vinegar and Clorox
Baby Wipes, these can be used for mini baths, cleaning, etc.
Tooth paste, tooth brush, floss, shampoo, deodorant, shaving cream and shavers
Hair combs, hair brushes, mirrors, elastic bands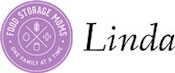 This post may contain affiliate links, including Amazon.com. Using links to these sites means I may earn a small percentage of the purchase at no extra cost to you.