Slow Cooker White Bean Chicken Soup
This slow cooker white bean chicken soup recipe is easy because you can use almost everything out of your food storage or freezer. Today was a great day to pull out the slow cooker and make some soup. I had some chicken breasts thawing in the refrigerator so I threw this recipe together. I love it when I plan ahead and have dinner cooking while I do other things around the house. This recipe has a little kick to it, but is hearty and yummy at the same time!
Since fall is almost here and it is raining outside I thought I would throw a pot of soup together. One of those recipes where you have everything in your house. No need to go to the store. You can even use cans of chicken from Costco (drain the liquid) instead of using fresh or frozen chicken breasts. Gotta love our food storage.
Slow Cooker White Bean Chicken Soup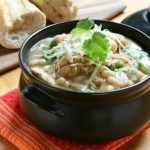 Slow Cooker White Bean Chicken Soup
Ingredients
3

15 oz. cans white beans, rinsed and drained

4

cups

chicken broth

I used 4 tablespoons Better Than Bouillon and 4 cups hot water

2

teaspoons

dehydrated minced garlic

1/4

cup

dehydrated minced onion

2

teaspoons

cumin

1/4

teaspoon

ground red pepper

cayenne

1/4 - 1

teaspoon

air dried jalapeno peppers

less or more depending on how hot you like your soup or use 1 (4 oz. can of green chilies, drained)

1/2

cup

freeze dried or dehydrated carrots

1/4

cup

freeze dried or dehydrated celery

2-

pounds

of raw chicken cut into one-inch pieces.

Sprinkle with pepper and Pink Salt

or sea salt.

Heat one tablespoon of olive oil in a pan.

Add chicken to hot oil and cook until browned and no pink is visible.

*Please note you can substitute 2-

12.5 oz cans of cooked chicken for the fresh chicken
Instructions
Place the chicken in the slow cooker with the rest of the ingredients and stir. Set to low and cook for 6-8 hours. Please note you can use fresh veggies as well. Just before serving, remove one cup of soup mixture and puree with 2 tablespoons of sour cream. Return to slow cooker and stir. Serve soup with a scoop of sour cream and slice of avocado, if desired. Makes approximately four servings.
Survival Food Storage by Linda