Shelving, where I do I start? I sometimes think it might be a bit overwhelming when we "start" buying our food storage. I am a little extreme on my organizational skills. I am not sure why I am but it's a fact. When I started purchasing a few #10 cans and they came in the boxes…I felt excited that I was REALLY getting some food storage. Well, after a year…..or two…or three all the floors under every bed in the house had food /and or water under them. Oh yes and the closets as well. We have a small house without a basement. The garage is off limits because it gets to 90 plus degrees minimum in the summer. The food would not last very long in the heat. My house has four bedrooms. The three guest rooms are very small. I am telling you this because I want you to know you don't need a BIG house to be able to store your food storage. Oh yes, don't get me wrong I dream someday that I will have ONE room just for food storage…..it's a dream…we used to have that…then we downsized! LOL!
Okay, here's the deal. I purchased some Shelf Reliance shelving. I personally purchased the ones that are "The Harvest 39″ inch #10". They hold up to 56 #10 size cans. I also purchased the racks that go on top so I can put several items there as well. I ordered the extremely strong wheels that go with this Harvest 39 inch #10 shelving. My point is this, I have a small house and I have guests come to visit. I opted for the shorter shelves because I can ROLL them out of the guest's rooms when I have guests come. I had a goal….I ordered the shelves slowly…..I knew it was an investment for sure. I don't have room to hang 2 by 4's with large planks of shelving to make those beautiful wood shelves that people have in their basements. The Shelf Reliance shelves are exactly what I need to organize my food storage. I can see exactly what I have. I now have four of these. I had to make a decision……I needed a "food storage" room. I have one now…they are on wheels next to my Grandkids bunkbeds….I will roll my shelves out when the kids come!!!
UPDATE:
I decided to get rid (gave them to some friends) of the Thrive Life (formerly Shelf Reliance) rolling shelves. I took these pictures below to show you a few new ways to store food storage and water if you have a small home like I do. How To Store Food In A Small Home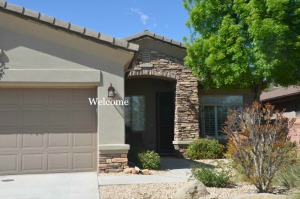 Here are a few cases of #10 cans on rolling metal cases that I purchased online from Costco. The in-store ones are not as heavy duty as these.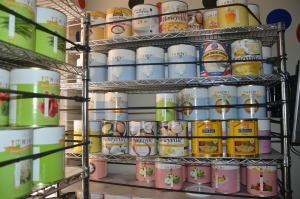 I store water in WaterBricks under my queen bed guest bedroom.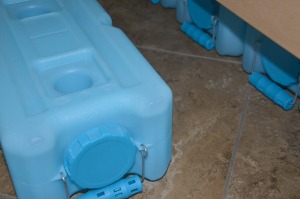 I store cases of food in #10 cans under the bunk beds in another guest room.
I have 12 cases of 24 cans of BlueCan water stacked neatly behind a dresser in my bedroom set on an angle. I hope this gives you more ideas to store food and water in your home. On my blog, I talk more about shelving for food and water.
This post may contain affiliate links, including Amazon.com. Using links to these sites means I may earn a small percentage of the purchase at no extra cost to you.