Best Quinoa Chicken Salad In The World
Have you made a quinoa chicken salad before? Oh my gosh, I am hooked on using the pressure cooker after going to Chef Brad's class with my sister, Carol. Chef Brad taught three classes at The Kitchen Corner right here in St. George, Utah. We learned all about grains, Kamut, Red, White and Black Quinoa, Barley, Teff and much more. He showed us how to mix and match different grains then serve them hot or cold. One thing Chef Brad mentioned at the class is the fact that black quinoa is hard to find.  He went so far as to say if you find some black quinoa you should buy it!
I am so excited to make all of them and serve them hot or cold. This particular salad has so many different grains it gives it a chewy and crunchy texture. The freeze-dried grapes that are not reconstituted just make the salad fabulous! Add some fresh fruit like mango and chopped apples….LOVE it! An easy way to cook quinoa without a pressure cooker. I will be showing how to use a pressure cooker to cook grains shortly.
Quinoa Chicken Salad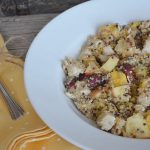 Quinoa Chicken Salad
Ingredients
Combine the following ingredients in a large bowl:

2

cups

cooked white quinoa

cooled

½

cup

cooked black quinoa

cooled

½

cup

cooked red quinoa

cooled

½

cup

cooked Kamut

cooled

2

cups

chicken

cooked and chopped

1

small chopped apple

1

cup

chopped mango

1

cup

freeze dried purple grapes

use fresh grapes if desired

Combine the dressing ingredients and pour over the salad.

******Dressing:

1

cup

olive oil

½

cup

agave or honey

⅔

cups

white balsamic vinegar

infused with pineapple if desired

½

teaspoon

ground ginger

dash of salt
Instructions
Serve immediately if you use freeze dried grapes or refrigerate for up to one hour.