How To Pressure Cook Quinoa
Do you know how to pressure cook Quinoa red, white or black? You can cook it several ways, but today I am showing you how easy it is to use a pressure cooker. EASY!!!! I took a class from Chef Brad a few years ago on how to use a Fagor Pressure Cooker. Okay, now I am hooked on using it for so many grains, beans and meals. Love it! And we do not have to be afraid of it exploding like Grandma's pressure cooker.
You know me well enough now that you know I do not like those silly instruction books. I have to have a visual…it could be because I am left handed, or whatever. I will go with the left handed idea. One thing Chef Brad mentioned about Quinoa is the fact the it is very hard to find black Quinoa. So of course I HAD to find black Quinoa. I have eaten white for a couple of years now. This class from Chef Brad opened my eyes to LOTS of awesome easy meals using grains. My favorite store here in St. George, Utah has all colors of Quinoa: The Kitchen Corner. You can also find all of them at most health stores or online.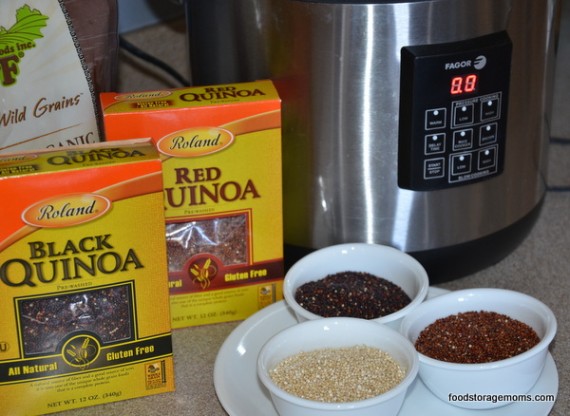 How To Pressure Cook Quinoa:
Step #1 This picture shows the Quinoa, 1/2 cup of each: red, black & white. So using 1-1/2 cups Quinoa I will use 3 cups water, or double the grain amount. In this pressure cooker whatever you make MUST have a minimum of one cup of liquid to build up the steam. I did add 1/2 onion chopped and one clove of garlic minced to the mixture.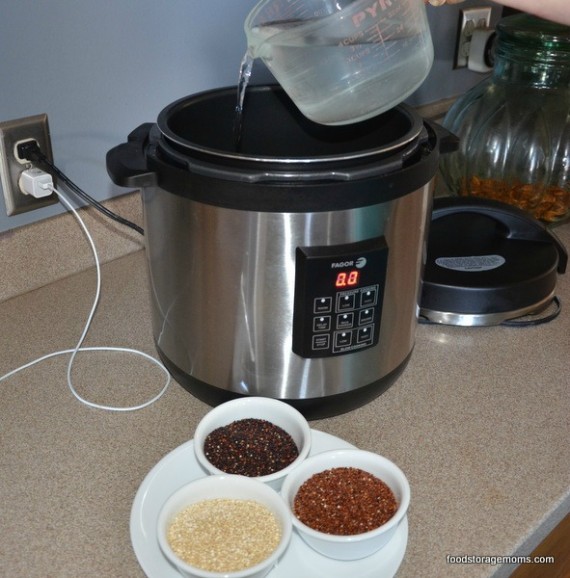 Step #2 Place the lid on and turn it until it clicks in place. It will lock when you turn the pressure regulator button to "pressure" on the top.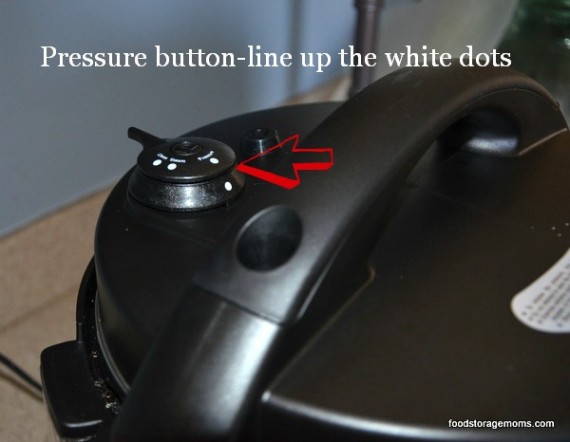 Step #3 Touch the HIGH button, then the RICE button and then the START button. That's it! You will see 6 minutes pop up in the time spot. It takes a bit longer than 6 minutes because it takes time to build up pressure, and then I let the Quinoa set about 3-4 more minutes after it says it is done. It keeps it warm….it's fabulous! You can also set 8-9 minutes using the TIME button, but I am lazy and the RICE setting works great.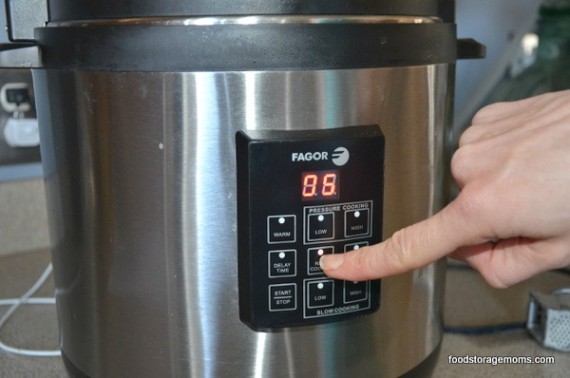 Step #4 When the pressure cooker beeps that means it is done….just let it set for a few minutes. No need to hurry. But when you decide to remove the lid you must first release the pressure/steam. This is where you will turn the button to release the steam. I recommend putting a dry washcloth over the large black button so you do not burn yourself or ruin your cabinets from the steam (see picture below).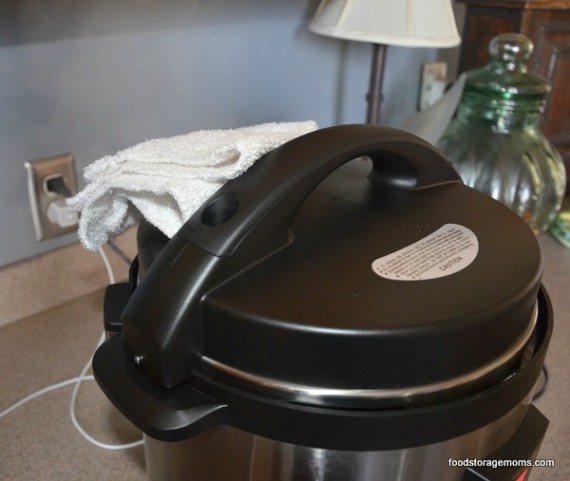 Pressure Cooker Instructions:
Ingredients
2 cups organic white Quinoa
3 cups water
1 Tablespoon Better Than Bouillon Chicken Base (optional)
salt and pepper to taste
Instructions
Soak the Quinoa in water for 5 minutes. Rinse and drain in a fine screen colander. Place the Quinoa in the inner pan in the pressure cooker. I set it on rice which is 6 minutes and let it release naturally which means it continues to cook a little more.
Once you start using a pressure cooker you will be amazed at what you can cook and how fast you can have dinner ready! I highly recommend getting an electric pressure cooker. Here's the pressure cooker above that I use all the time: Fagor 670040230 Stainless-Steel 3-in-1 6-Quart Multi-Cooker