This is a preppers book for kids called, Jake & Miller's Big Adventure, written by Bernie Carr and illustrated by Aja Wells. I have been really thinking about a way to teach kids how to be prepared for the unexpected. It just so happens that Bernie Carr is in a Facebook group I belong to. I decided I would purchase the book from Amazon and have some cute neighbor kids read it. I really like the way it is written. It is an easy read for children. It makes the kids think about things we might need if we were to go on a big adventure…or be prepared for a disaster or unforeseen emergency.
I had two of the cutest little guys read it together with me. We all listened as the seven-year-old read it. It was an easy read for him. I was actually amazed at some of the "big" words he could read. So, all and all the boys loved reading it. The book has great illustrations and teaches children the things they might need if they took a big adventure…A few of the items mentioned were water, flashlight (batteries), food, dog biscuits for the dog, a backpack, tent, and one item I push all the time…a can opener! I was so excited to see Bernie suggested them adding a can opener to add to their stash. Bernie mentions many items and the book is a great read for kids. I highly recommend this book.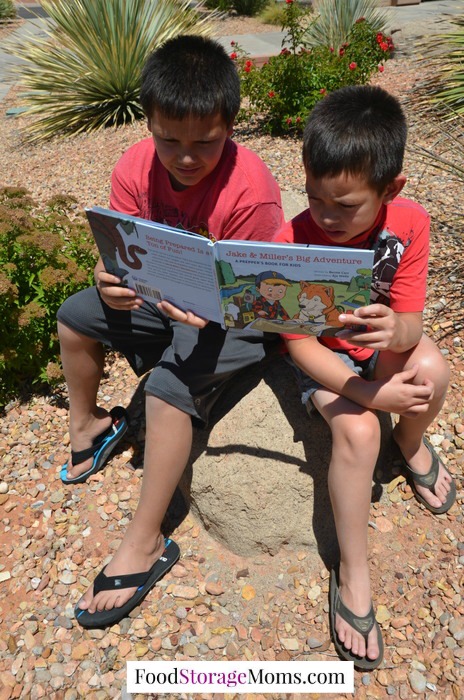 This book is perfect to teach kids how to be prepared in the woods or to hunker down at home. He talks about sleeping bags, water bottle with filters and so much more. He has the greatest ilustrations to show the kids how easy it is to gather up what they might need in an emergency. Bernie explains ways to be prepared for the unexpected in a non-scary way. He makes the young readers think about what they might need in a few different situations. It might be in the heat or the freezing cold. The book challenges young children to think about what might be needed in a family friendly way.
We took the picture outside in the sun….it sure was fun reading it with these boys. Here is Bernie Carr's website: Apartment Prepper
Here would be my choice for a flashlight….Goal Zero, yep it is solar and has a crank. Gotta love it! Did you see the post on how to make hamburger jerky? This is one of my favorite bottles for filtering water..the Berkey Sport Bottle:
1.The Sport Berkey Portable Water Filter has a shelf life of 50 years  (if not used)
2. You can filter water from any source: 160 refills
3. You can filter a Municipal water source: 640 refills
4. It's a 22-ounce size bottle
5. Perfect for hiking, hunting or for our 72-hour kits