Popcorn-Where Do I Get That Huge Gourmet Popcorn
Who doesn't love popcorn? I went to the Honeyville Grain Retail Store in Salt Lake City, Utah a few years ago and met with Lisa B. to talk about teaching classes in "The Kitchen" center at Honeyville.  I had the chance of a lifetime to walk around the store with Lisa and Karen (early in the morning before the store opened) and LEARN about a million things. Okay, that's a bit of a stretch…..LOL!  I went to one of their weekly classes to learn everything about Popcorn..and not just ANY popcorn.
Lisa demonstrated to the class about the different sizes of kernels. She explained there are several types of popcorn. You can see the three sizes of kernels I photographed below.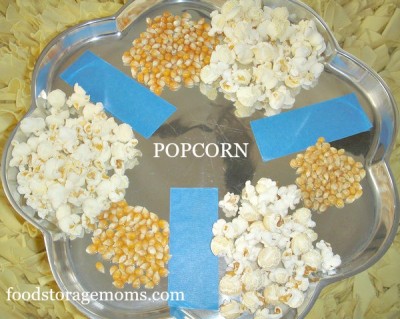 The top one is the Honeyville HUGE Mushroom/Caramel popcorn. I call those fluffy gourmet kernels the best in the world popcorn kernels.  The one on the left is Orville R.'s popcorn.  The one on the right is the kind of popcorn I grew up on.  Oh yes, there are several sizes….hmmmm…Okay back to my popcorn class.  I started taking notes like crazy as she talked.  I guess popcorn is all about the size of the POPPED kernel.  Lisa grew up like me using an air popper to pop our hot buttery popcorn. She cooked and turned the handle of the  good old "twirly" popcorn popper, the kind you cook with oil and turn the handle to keep from burning the kernels.
We talked about the microwave popcorn and the old heavy pot with oil and waiting for the "pop" "pop" "pop" to start.  I guess popcorn is just popcorn until you try Honeyville's mushroom/caramel popcorn ( I call it gourmet)!  It technically is not gourmet popcorn because of its size. But to me it is gourmet. It's like the huge fluffy stuff you get in those gift cans at Christmas time. I bought a 50 pound bag for my food storage!  Of course, I will be making lots of popcorn!!!
You know when you walk into a movie theater and you smell that yummy buttered machine pop..pop…popping! You know it's not healthy, but you sometimes cave in and buy a bag….with extra butter. Now we're talking…
A few years ago some friends gave us a microwave popper. Yep, we use it all the time! There is a store in town that makes a butter flavored olive oil we drizzle over the hot freshly popped bowl. Love it!
I often wondered why I could never "pop" the huge gourmet size. Well, it's because you must know what you are buying so you can "pop" that size kernel.  I am going to explain the three sizes of  popcorn that I learned about in the class.  The corn company I guess determines the "expansion level" of the popped corn.
The size of the popcorn expansion levels are as follows:
Minimum expansion level #30-35= the kind I have been buying (small)
Minimum expansion level #35-45=the kind that I would call a famous company brand (medium)
Minimum expansion level #50 or above=mushroom or caramel (I call gourmet)-which I will ONLY buy now…..yummy!
I'm not sure if you can buy the Honeyville 50 Caramel/Mushroom pound bag online. They have stores in Utah, Arizona and California. Check out their locations to see if one is near you. Honeyville Grain: Honeyville Grain.
You can buy mushroom size here:Mushroom Popcorn Kernels 2 Lbs – Just Poppin Brand
Please tell me what you like on your popcorn…I would love to hear! Just remember popcorn is a great food storage item…just saying….
Lanie: We live in mid-Michigan, an area with a large Amish population. They own many bent&dent / bulk food stores. We buy much of our food there. We buy our mushroom popcorn there– lately in 5# bags and keep it in the freezer. It is waaaay cheaper than "Orville's" and better, too. They have a variety of different popcorns, but we like the mushroom best.
Emily: Unless popcorn is labeled 'organic' we will not buy it. Corn in this country is genetically modified (GMO). More and more test results indicate that GMO foods are detrimental to good health. We buy organic popcorn from our food Co-op.
Helen: I worked at a gourmet popcorn store (What's Popping) for about 14 years. We made all products, about 30 flavors in the store and used the mushroom popcorn (from Gold Medal) in Cincinnati for flavors that were glazed and had to be tossed a lot because it is able to withstand the tossing. Check out their website for some wonderful flavors. What's Popping Popcorn: What's Popping Popcorn.