The Penny Pinching Prepper-Save More-Spend Less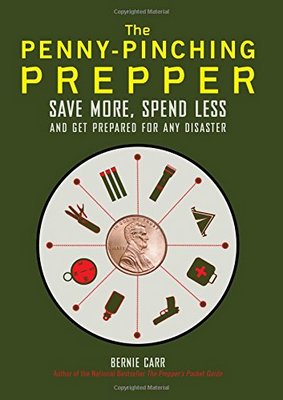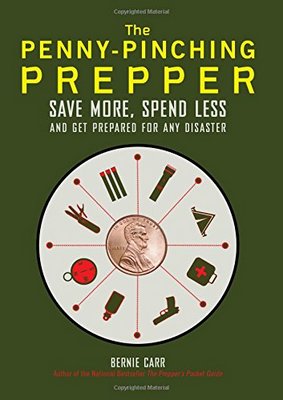 I am thrilled to write a review today on my friend and colleague, Bernie Carr's latest book today. She is a great writer and knows her stuff!  She has written many books as you probably already know. These are the ones I have:
1. The Penny-Pinching Prepper: Save More, Spend Less and Get Prepared for Any Disaster
2. The Prepper's Pocket Guide: 101 Easy Things You Can Do to Ready Your Home for a Disaster
3. By Bernie Carr Jake and Miller's Big Adventure: A Prepper's Book for Kids [Hardcover]
4. How to Prepare for Most Emergencies on a $50 a Month Budget
"The Penny Pinching Prepper, Save More, Spend Less" by Bernie Carr, Review
I am so grateful that Ulysses Press contacted me to do a review on Bernie's book. I was actually very excited to receive the book in the mail.
This book, "The Penny-Pinching Prepper, Save More, Spend Less", talks about how to save money in just about every area of our lives. She talks about clutter and paying for storage units filled with furniture we no longer will use, need or want. She has pictures showing how to make your own water bucket purifiers, using ceramic filters and ordinary 5-gallon buckets. I have seen this type of DIY water deal in person and for the price it is very simple to make.
Bernie talks about what to include in your first aid kits. I think we can always view a new list of first aid items so we can add additional items to our own kits. I really like her instant stain removers list and her DIY deodorant formulas you can make it yourself. She talks about safety issues that everyone should use every day in the home, jogging and even in the car.
When you buy this book you will learn how to make laundry detergent, how to buy your first gun, shotgun and so much more. She basically teaches you how to make something out of ordinary, cheap or free items for preparedness items we all need. You can save money if you make your own prep items over buying ready made ones and save lots of money.
I highly recommend this book and every book she writes, you will save money and be prepared for the unexpected.