How To Make The Best Paleo Gluten-Free Granola
This Paleo Gluten-Free Granola recipe is absolutely fabulous and healthy at the same time. It is sweet, but not too sweet. It is moist and chewy! Yes, I must say it is finger licking good! I actually saw this recipe on FaceBook yesterday. It is my friend, Lyn Christian who shared it. Lyn is the Founder of and Head Coach at Soul Salt. She is renowned around the world for her skills in working with individuals and her capacity to train other's how to coach as well.  She specializes in working with small businesses and entrepreneurs.
This is Lyn's philosophy: Coaching is not a quick fix like those found in a pill or a medicine cabinet. Working with SoulSalt requires dedication, discipline, awareness, and attention, which maintained consistently over several months, produces results. Apart from her work as a coach, Lyn employs her philosophy to her personal life as well. Being an athlete, she is dedicated to wellness and health, and that's why she enjoys spending time in the kitchen preparing recipes like the one I'm sharing with you. I am so proud to say she coaches me to be the best I can!
The next step to make this granola is to mix the dry ingredients and the wet ingredients in separate bowls. Then combine the dry and wet together. Easy peasy! I could actually eat this raw it is so yummy! But I will bake it as directed. My friend, Kathleen would LOVE this recipe. It has just about every nut available in it. Shhhh….don't tell her I am taking a jar to her.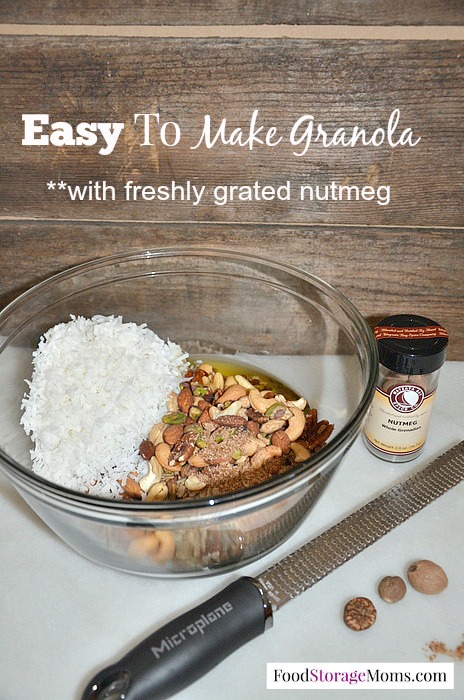 This is so funny because I have made granola for years. BUT I have not made a Paleo Gluten Free Granola. I hope you try this recipe. I think just about any kind of nut you have on hand in your pantry or freezer would work. This would be a great snack to have on hand every day. I love that this recipe has nutmeg because I love freshly grated nutmeg on just about everything.
Benefits of Nuts
I really have been trying to eat more nuts. My husband and I are trying to eat better. One thing about nuts is the fact that they are a healthy, filling everyday snack that can help you lose weight, help prevent dementia and will help lower your cholesterol. Nuts are crucial for a healthy diet, especially for people over 50. Studies show that you will sleep better, improve your memory and build up your immune system just by eating a handful of nuts per day. But in general,  it is best to eat raw nuts since high temps can destroy some of the nutritional value.
Seven Healthy Nuts
Some of the best nuts for your health are walnuts, peanuts, Brazil nuts, almonds, pecans, pistachios and pine nuts. These work for me, I love all of these. Enjoy this granola recipe while eating nuts to improve your health. Here's to a longer, healthier life.
Paleo Gluten-Free Granola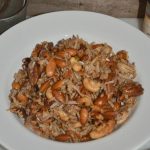 Paleo Gluten-Free Granola
Ingredients
1

cup

almonds

1

cup

pecans

1

cup

mixed nuts (Cashews, Brazil, Almonds, and Pecans)

1

cup

raw sunflower seeds

2

cups

unsweetened shredded organic coconut

1/4

cup

honey

1/3

cup

melted virgin coconut oil

2

Tsp

vanilla

1

Tsp

cinnamon

1/2

Tsp

nutmeg
Instructions
Blend all dry ingredients. Blend all the wet ingredients then mix them together. Spread the mixture on parchment paper onto cookie sheets and bake at 300 degrees for 20 to 30 minutes. Don't allow to get too brown. Store, serve, enjoy!