You Need More Than A Simple First Aid Kit For Survival

I feel a need to make sure people realize you need more than a simple first aid kit for survival. Here's the deal, most of us have bandaids and some Neosporin, maybe some alcohol or Hydrogen Peroxide. That's a great start, keyword start. Today, I want you to think about what you have in your hall closet or first aid kit, whether large or small. The power is out in your neighborhood and your entire city, or at least as far as you can see, there are no lights except the stars and it's 10:00 P.M. Yep, it's called a blackout, no power or electricity anywhere. You have walked across the street to see if the neighbors know what's going on. No, their lights flickered off as well. Your home phone and cell phone do not work. No internet, no way to hear what has happened. Yes, the radio works, but it's not telling us what happened in our little community, at least not yet.

MY LATEST VIDEOS
Let's just say the power went out on Monday. It's now Friday of the same week. No power. The gas pumps don't work, sure glad I filled the car with gas on Saturday, I think to myself. I don't need anything from the store, but my neighbors do. They have driven into town and the stores are all closed. It's called a power outage. No one knows when the power will come back on. Some neighbors become sick and they have very little food or water stored, let alone simple first aid kit supplies.
I'm so glad I have 75 days of my 90-day prescriptions filled. Whew, that's a relief. Some may not be so lucky. What, the pharmacies are closed? Of course, they are, they have no power and no internet. Plus, they don't have any insurance information about us because the internet does not work without power. Oh, and the pharmacies are closed because they are totally out of the basic items that people could pay cash for, the debit cards, credit cards, and EBT cards will not work. Just giving you the heads-up here. Another reason we all need to store some small bills in a safe place.
Please check your first aid kit supply today rather than tomorrow. What you have in your house today may be all you have for a week, two weeks or a month. We all assume the power will come back on but……..you get it, right? We need to be prepared for the unexpected.
I'm probably over the top with first aid supplies, but that's how I roll. Let me share the items I like to store, please add yours to the list. We all use different things, but this will maybe help us think what we may need to rotate or pick up before an unforeseen emergency happens. I think it will. May God bless our country and families. Hopefully, we will have more than these bottles shown below……I love this picture.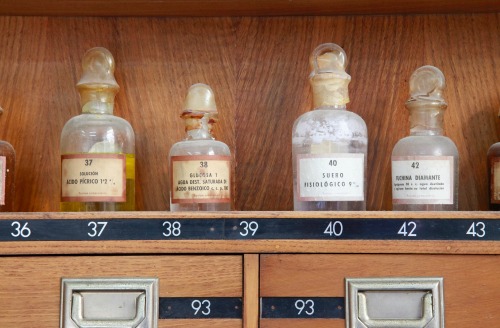 Simple First Aid Kit Supplies:
Ace Wraps : 3-inch & 4-inch
Allergy Medicine
Anti-Bacterial Wipes
Antifungal Ointment
Anti-Diarrhea
Anti-Itch Cream
Aleve (Naproxen)
Alcohol: 90-100% proof
Apple Cider
Aspirin/Advil
Bandage Scissors
Band-Aids/Butterfly, Several Sizes
Bee Sting Kit
Benadryl, Liquid, and Chewable
Betadine/iodine swabs
Birth Control
Boudreaux's Butt Paste
Bug Spray 100% Deet
Burn Gel
Calamine Lotion
Castor Oil
Cold Medicine/Cough Syrup
Contacts/Contact Cases/ Extra Glasses/Saline
Condoms
Cotton Balls
Cotton Swabs
Dramamine (motion sickness)
Dressings for open wounds
Duct Tape and medical tape (all different sizes)
Ear-Loop Masks (N-95), all sizes
Ear Plugs
Elastic Gauze Bandage Rolls
Epsom Salt
Essential Oils Book
Eye Patches
First-Aid Book
First-Aid Shears
Flashlights w/Batteries
Floss
Gloves (non-latex)
Gauze Pads (sterile and non-sterile)
Hand sanitizer
Heat packs-Heating pads-Thank you Janet for this reminder: Hot water bottle
Hemorrhoid Ointment/Suppositories
Ibuprofen
Mylar Blankets
Hydrocortisone
Lip balm/ ChapStick
Lotion or Body Cream
Menstrual Pads and Tampons
Mucinex
Mucinex Dm
Motrin
Monistat (Yeast Infections)
Mouthwash
Molefoam/Moleskin
Multi-Task Knife
Nasal Decongestant
Nasal Spray (Afrin)
New Skin Liquid Bandage
Non-stick Sterile Pads
Nystatin and Triamcinolone Acetonide
Nail Clippers
Neosporin
Orajel
Petroleum Jelly
Pepto-Bismol Chewables
Peroxide
Pregnancy Test
Quickclot
Rolled Gauze
Scissors
Silver Gel
Silver Liquid
Silver Cough Lozenges
Sleep-Aid Medicine
Splinter Removal Kit
Splints
Soap
Stethoscope
Sunscreen
Surgical Face Masks (N-100), all sizes
Tick Remover
Toothbrushes/Toothpaste
Tucks Pads-Which Hazel
Tweezers
Tylenol
Vicks VapoRub
Zantac (Acid Reducer)
Ziplock Bags
VITAMINS
B-12 Vitamins
B-complex vitamins
Calcium
D-3 Vitamins
Magnesium
Mature Complete Multivitamin
Omega 3 Fish Oil
Vitamin C
Essential Oils
Please take a few minutes today and review what you have in your home that will make you more secure than just a simple first aid kit. If you have taken some CPR, EMT or CERT classes, you rock. Thank you, paramedics, doctors, and first responders, we will need you sooner than later.
My favorite Medical Handbook
Comments from readers:
Kathie: A hemostatic agent such as Celox for hard to stop bleeding and a tourniquet for severe blood loss that can't be controlled otherwise.
Grayfox:
Great list but in my personal kit, I have the following:
1) A large syringe, either a medical unit or a basting syringe, for irrigating wounds
2) Distilled water or dated IV solutions for irrigating solution
3) Suture's, various sizes, and the instruments to use them and the KNOW-HOW
4) Local anesthetics, Lidocaine or Zylocaine
5) Various sizes of syringes
6) Assorted sizes of scalpel blades and holders
7) A high-quality magnifying glass or a jewelers loupe for those hard to find splinters or thorns
8) Various hemostats, forceps and other surgical instruments
9) Dental emergency items, including temp filling materials and glues
10) Two types of wide range prescription antibiotics, in the event you have an injury and really can't get to a doctor or hospital and your emergency treatment or the injury leads to a local infection. The worst infection I ever had was from a foot laceration that received "nurse care" and I waited a week for the doctor to return and treat the injury. Debriding and suturing without anesthetic is painful in the extreme….
11) You listed a flashlight and batteries, but to free your hands, get a pair of the headlamp glasses. Amazing amount of light, and yo can get them with various power lenses.
I know these additions are a little over the top for most people, but what if the power is out for two weeks or more and our support infra structure either waivers or fails completely?
HOW TO PACK YOUR SIMPLE FIRST AID KIT
Medium size:
Large size:
Small size: