Merry Christmas in July 2014! Well, you probably know by now I am pretty practical. I love showing people how to make bread, use their food storage daily, make homemade laundry detergent and be as self-reliant as possible. I have done a few posts on making your own detergent as well as a YouTube.

Over the weekend I decided to make some laundry detergent and before I knew it I had three five gallon containers and one three gallon container filled with my homemade laundry detergent. I make it for my daughters because it is so inexpensive and they all love it. It cuts down their grocery bill, as well as mine. Are you like me and when you go to the store you walk out and say…wow..there isn't enough to eat here in the grocery cart. It's filled with toilet paper and non-food items…urgh! So this is my Christmas Gift to my daughters: laundry detergent.
Merry Christmas in July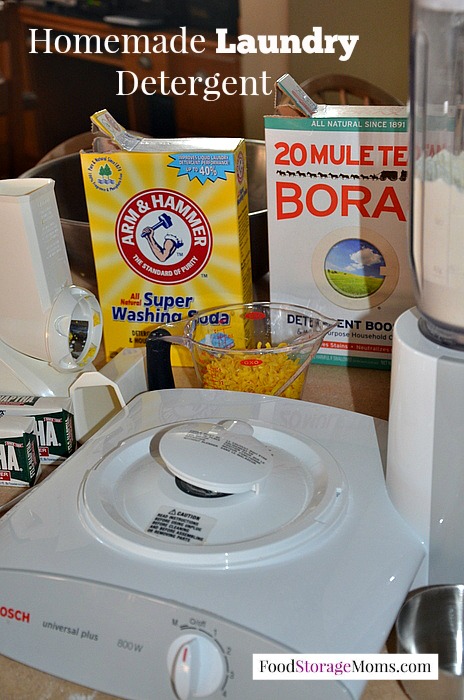 I decided since I had the cheese grater and the blender going I would make enough for my neighbor's Christmas Gift in July! I will have them wrapped up and ready to go. I will enjoy the holidays knowing I am ready to deliver them in December. Shhhhh…it's a secret! I love the smell of this laundry detergent and how well it cleans my clothes. I still use my favorite Gain "original fragrance" fabric softener. I love that smell as well! I think we all have our favorite fabric softener scents. Some people do not use fabric softener. It costs about four five cents a load to wash my laundry….cartwheel moment! I love saving money.
Once one of my favorite neighbors asked me how this detergent works? Does it clean your clothes? Does it smell really nice? Well, it had to pass her husband's smell test…yep, it did and they make it all the time now.
People have asked me if I have tried making liquid detergent. My answer is no and I probably will not because of the dry product storing really well for me. If I add water it will take up too much space in my little tiny home. If you need a way to wash your clothes in an unforeseen disaster here is a great post: Laundry by hand
Have you thought about a clothesline? I finally found one I love: EarthEasy Clothesline. It's all about being prepared for the unexpected…
Do you love Ball jars as much as I do? The white lids shown above are made by Ball. I love that I can do so many things with canning jars.
Homemade Detergent
Ingredients:
One grated Fels-Naptha Bar
1 cup 20 Mule Team Borax
1 cup Arm & Hammer Super Washing Soda
Instructions:
Mix one batch in a blender as shown above. Blend until smooth. Use ½ to one tablespoon per washing machine load.