How To Make A Dutch Oven Stand With Recycled Items

Today I am showing you how to make a Dutch Oven Stand With Recycled items. My awesome brother-in-law, Duane made this for our family years ago. I just LOVE it! Duane took a tire rim that is approximately 15 inches wide in diameter. He welded 3 short legs, about 6 inches tall and about 1-3/8 inches in diameter, inside the rim. The other legs are 24 inches long and 1-1/4 inches in diameter and fit inside the longer ones.
Duane made it so we can take the 24-inch legs out and travel easily with this little barbecue, Dutch Oven Stand in a car or truck. It's really easy to store in the garage because it comes apart. It is extremely sturdy. He cut a metal grate and welded it so it is stationary inside the tire rim to hold briquettes or firewood. If you had another grate/grill for the top you could barbecue on it. We use this mainly for the Dutch Oven, or sometimes we roast marshmallows or hot dogs with a skewer over the flames.
What I really like about this unit is that you can use it with or without the 24-inch extended legs. Of course, you would need to know someone who knows how to weld and has welding tools. Thank you to my brilliant brother-in-law for coming up with this great idea! The extended legs are about 24 inches long by 1-1/4 inches in diameter. This makes me want to cook something this weekend in my Dutch Oven!
Dutch Oven Stand Without Legs Attached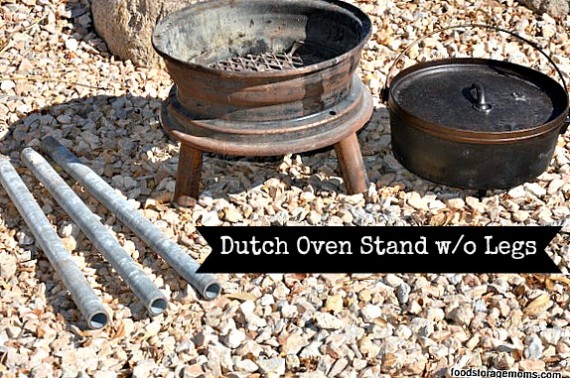 Please be careful and mindful of your surroundings whenever using a fire source for cooking, etc. How to be prepared for the unexpected……..
Lodge 6 quart Dutch Oven.