Why You Need To Get To Know Your Neighbors
I have talked about why you need to get to know your neighbors before, but today's post is a small reminder about how important it is to at least meet a few of them. I took a video a few years ago showing rainwater coming off the hill behind our home's back wall rushing like a river, and I mean a river. It was pretty scary realizing we had no control to "turn off the rain".
I asked the HOA, (Home Owner's Association) for permission a few years ago if I could put in a block wall because we were almost flooded back then. They agreed. I want you to think of the people you would feel good about asking for help if your home was being flooded or something even worse.
Here is my rushing rainwater picture coming off our hill: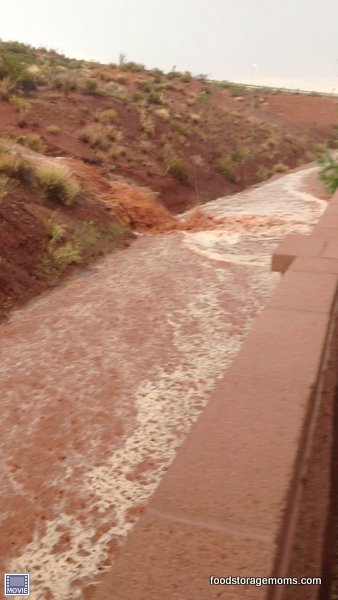 Our friend, Wally sent me a text asking if we were okay the day I took this picture. I asked why and he then told me the damage he had witnessed in our subdivision while driving home. We had no idea of the damage going on in this little community. So Mark and I got in the car to go see if we could help anyone in need. As we drove around the neighborhood to assess the damage of others we were shocked at what we saw. We immediately started checking on the homes of the people we knew were not home at the time. We had heard a local store was providing free sandbags and we were ready to go get some if the rain continued. We didn't want to rush and get some if others needed them more than we did.
Trees Were Uprooted
Luckily our yard was spared from the trees being uprooted. We did not have water or mud rushing into our home, this time anyway. Other families were not so lucky. Two homes were filled with mud, yes, completely filled with mud. They could no longer live in their homes because of the damage created by the excess rainfall. My point is this, we need to know our neighbors now not when we have a major disaster. Here's the deal, I would rather meet my neighbors today rather than after a disaster.
I was pretty discouraged with our HOA group because they would not share the names of the people on my street. Yep, it's all about privacy. Good grief, I hope those people are happy with their privacy when their house is flooding with rainwater and we don't know who to contact. Just saying. I know a few handicapped people on my street and it's a good thing I know them otherwise they may be in trouble and no one would know. I would like to start a block group so we all have names and numbers of those who live nearby. There are a few of us who know each other, but man I live in a ghost town street. I rarely see anyone outside.
How to meet & know your neighbors:
1. Meet your neighbors, knock on their doors and introduce yourself if you don't know them. I am not saying you have to be best friends, someday you might just need to know that neighbor.
2. Greet, wave or say hello if you see your neighbor at their mailbox.
3. Have a barbecue or potluck with neighbors, maybe a "street party".
Card Night
4. Invite someone over to play cards, crafts or games.
5. Have a neighborhood movie night.
6. Have a "Clean Up Our Street Week", let your neighbors know about other neighbors who could use help in some way. They might be a single mother or an elderly couple.
7. Remember, I am not suggesting to be a nosy neighbor, just be aware of what is going on. I saw a van driving slowly down the street the other day. I went outside to make sure they were not looking to cause trouble in our neighborhood.
Luncheons or Night Out
8. Suggest a girl's luncheon or girl's night out.
9. Be aware of garage doors that are left open, or garage exterior lights that are burned out. Let your neighbor know if their garage door is open when normally it is not.
10. Ask your neighbors for personal home and cell phone numbers and if they are willing to share some numbers of extended family for emergency purposes.
Block Party
11. Have a block party and share the items you have that we can all share in an emergency. You have heard me say this before, that guy with a chainsaw down the street just might be your new best friend someday.
12. Most people would love to meet their neighbors and know they can call them if they needed help in some way. If you make bread, take a loaf to a neighbor. Cookies work great, too!
Firepit
13. Mark and I bought a firepit last year and we have really enjoyed having a few neighbors over to roast marshmallows with graham crackers and chocolate bars. Marshmallow Sticks
Get A Dog
14. Thanks to Pamela who left a comment about "get a dog". I am adding it to the list. You can take your dog(s) for a walk and meet all kinds of neighbors! Thank you, Pamela!
Book Club
15. Thanks to Hessie: A neighbor organized a book club! We meet every six weeks to discuss the selected book and have a pot luck. The group has also turned into a mutual aid organization. When there is illness or bereavement, members assign themselves to provide meals for the affected family for a week or longer if necessary. We have also assisted each other in yard sales.
Star Party
16. Raymond: 1. Star party–Recently the planet Mars has been spectacular, as has Saturn and Jupiter. I have a decent telescope so I invited my neighbors over for a planet viewing party. Most of them came. We shared cookies and blueberry/zucchini bread I'd baked in my Sun Oven with them.
It was a hit, especially among the neighbors who had kids. 2. I regularly share excess produce from my gardens with my neighbors. Great way to get to know them. A few have good, mature fruit trees that I don't have and they share their excess with me now. Win-win.
Neighbors Helping Neighbors
17. Vicki: I am the American Red Cross Disaster Chairman for two large counties in Idaho. A couple of years ago, I found a website for a national Neighbors Helping Neighbors organization. I found a friend who was computer savvy and he built a local website for our county. Since then, the national website has shut down.
Here is the address for our Lemhi County ID, Neighbors Helping Neighbors website: (www.lemhinhn.com). Take a look at it. We have videos, that we copied from the national website, that could probably be copied from ours to start your own local NHN organization.
It also has copies of forms that neighbors can fill out to know more about who has what skills and what tools are available in the neighborhood. You are welcome to use any part of the website to create your own copy if you wish.
Final Word
Please leave a comment about any ideas you may have to meet your neighbors and I will add it to the list! If you are lucky enough to have family close by that's awesome! If not, please let me know how you are getting to know your neighbors. Let's tell the world how to do it! May God bless you in your efforts to be prepared for the unexpected.