Is Freezing Rice And Pasta Okay?
Is freezing rice and pasta okay? Yes, rice and pasta are easy to make and freeze. I have some of my favorite relatives coming to stay with me in a week that I haven't seen in a few years. I have planned out the meals so I don't have to spend the time in the kitchen cooking meals while they are here visiting. I don't like to go to the grocery store when I have company coming because, for one thing, I dislike grocery shopping. I also love the challenge to fix meals for guests with food I have in my house today. Yep, it's called food storage.
One of the meals we'll enjoy will be spaghetti with a salad, including fresh veggies from the garden. I have frozen meatballs in the freezer and some fresh tomatoes and tomato paste I can use to make a homemade spaghetti sauce. The day before I have the spaghetti dinner I will bring a bag of the frozen pasta from the freezer to the refrigerator to let it defrost.
Cooking Pasta:
So, today I got out my huge soup pot and filled it with water to boil some spaghetti. I like to break the spaghetti in half just because it's an old habit I have. I have done this since my kids were little. I always add a little salt and some oil to keep the spaghetti from sticking to each other. I stir it almost constantly, but I am easily distracted by other things so I don't always remember to stir it. After bringing the water to a boil, I added the pasta and cooked it about 12 minutes.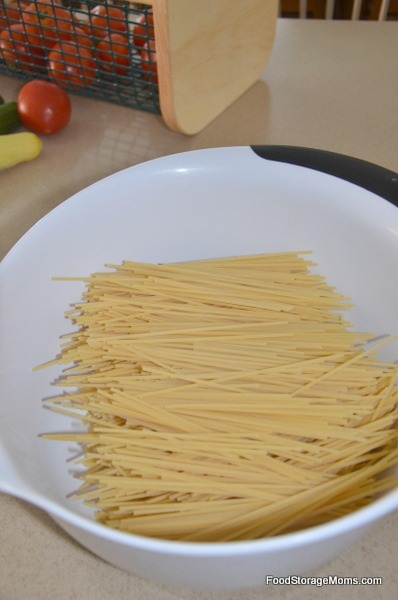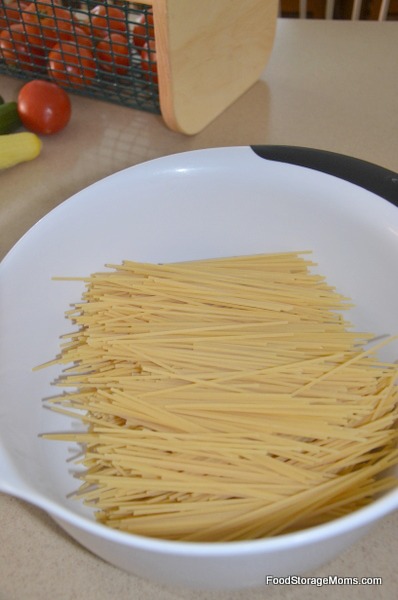 Draining The Cooked Pasta:
After cooking I drained the pasta with the cool faucet water running over the cooked pasta. I did add a few ice cubes (you can't see them because they melted fairly quickly). I wanted the pasta to quit cooking and be ready to bag in gallon freezer bags.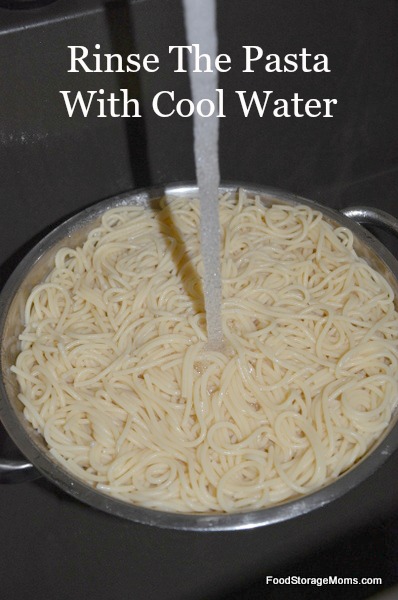 Freezing Pasta:
I didn't measure the spaghetti but eyeballed it to fit three bags. Now with these bags ready in the freezer, I can make the planned spaghetti dinner, but also in a week or so I can make a spaghetti salad with veggies from the garden. Add some olive oil and Balsamic vinegar and dinner is ready!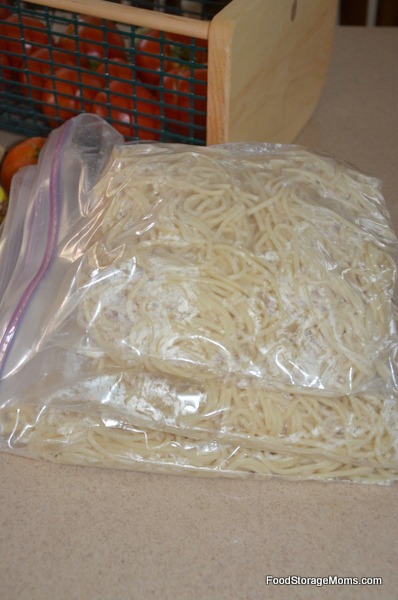 Cooking Rice:
Today I cooked four cups of my favorite rice called Jazmine rice in a rice cooker. I rinsed the rice first and then put it in a rice cooker with 6 cups of cold water. I didn't add any salt or seasonings in the rice cooker. I turned it on and let it do its thing by cooking. Then, I let it cool down and then placed 2 cups of the cooked rice in quart size freezer bags. Now I have a few bags of rice ready for any meal in the freezer.
Like I said above, I cooked the Jazmine rice that's sticky and absolutely my favorite rice in the world! Here is what it looks like: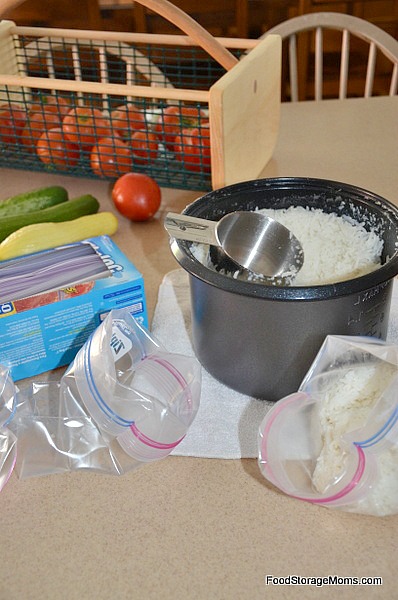 Freezing Rice:
I put two cups of cooked rice in each quart freezer bag. Give or take two cups, you know how that is, the rice sticks to the cup and you have to use a spatula to scoop it out. I squeeze the air out of the bags and seal. I have six bags ready to go into the freezer. I love freezing rice! When you want rice, pull a bag out of the freezer the day before. You will be so glad you have some frozen rice ahead of time. I promise.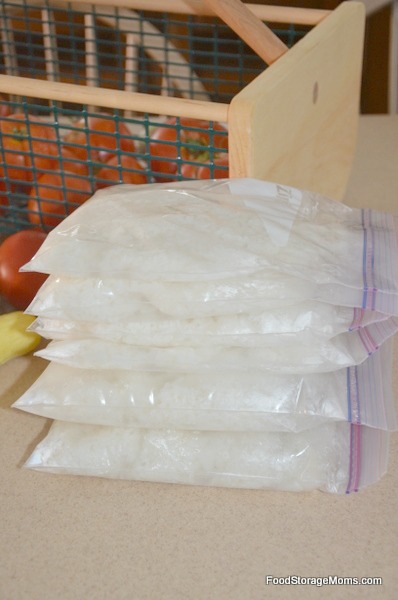 This is one of the recipes I will fix with the frozen rice (I put a frozen bag of rice in the refrigerator the day before I cook the meal). This is my daughter, Heidi's recipe that I love to make. This will be one of the dinners I fix for my family that is coming to stay with us.
Rice And Chicken With Water Chestnuts:
2 Cups cooked chicken cut into bite size pieces (or 2 cans of chicken drained-12.5 ounces) (or equal amount of reconstituted freeze-dried chicken)
3 Cups cooked rice
½ chopped fresh onion (or 3 tablespoons freeze-dried onions-do not reconstitute)
1 cup fresh celery chopped in bite size pieces
1 can water chestnuts drained, sliced or chopped (approximately 8 ounces)
1 cup mayonnaise or miracle whip
2 Tablespoons lemon juice
1 cup almonds, slivered or sliced (Add to the top of casserole the last 5-10 minutes-continue baking)
Instructions:
Preheat the oven to 350 degrees. Place all the ingredients in a large bowl except the almonds. Stir the mixture until blended well. Place in a 9 inch by13 inch greased pan and bake uncovered for 30-40 minutes or until heated through. Add the almonds to the top of the casserole during the last 5-10 minutes of baking.
PRINTABLE recipe: Recipe by Food Storage Moms
I hope this helps you save time in the kitchen so you have more time with the family. Here's to using your food storage every day of the week. Let's stay out of the grocery stores and save money at the same time.