How To Turn The Water Off To Your House 101

This is my post on: How to turn the water off to your house 101. A couple years ago I happened to go out to garage to get a loaf of bread out of the freezer. Well, we had water running down the shelf that holds our 8-year-old water heater. I mean like a small river…..so I want to challenge everyone to find your water turn off valves, today….
We all need to know how to turn the water off in our houses as well as outside our homes. I had a cute neighbor who was a plumber by trade and he told me once "I wish people would turn the water lines off" when they go out of town even for 3 or 4 days.  Joey, my old plumber friend said "If people only knew how much damage water can do to their house they would turn off the water inside the house whenever leaving to go on a weekend or long vacation." He also mentioned to "turn off your hot and cold washing machine valves" if you are going to leave for an extended period of time. Well, I am sure my neighbors would have called me if they saw water running down the driveway from under the garage door. I am just glad I was home and not out of town….I used so many towels to mop up the water….
Luckily we have an awesome new plumber friend, Roger. He told us how to turn the water heater valve off at the top of the water heater to STOP more water going into the leaky water heater. It made me think about what would happen if we had a disruption in our city water lines, and thus, no water…..we at least had cold water for 48 hours. We can live with cold water for a few days. Boy, do we take these water heaters for granted!
Here is the old water heater waiting to be replaced with a new one. We saved $50.00 because we hooked up a hose to drain this gem before it was hauled away…love it! Thanks to Roger, we have a new one and he carried that old one out to his truck alone…wow! The water valve shown above turns off the water to the whole house.  Roger told us we could shut off just the hot water by turning a valve on the top right water inlet pipe above the heater (not shown).  Once the new heater was installed he turned the valve back on.  We had already turned off the gas line once we knew the heater was not functioning properly.  You can see the red gas valve on the bottom left side of the heater in the picture above.  Yours may be somewhat different.
Please take a minute today to see where to turn the water off to your house. Not tomorrow, today. Please be prepared for the unexpected.
How To Turn Off Gas Lines: Is Your Carbon Monoxide Detector Working by Food Storage Moms.
Here's a picture on how to turn the gas off to your house. Here is a tool every family should have in order to turn off your gas line. Please realize I am not telling you to turn off your gas line unless you feel you are in eminent danger and you cannot contact the gas company. You can sometimes cause more problems if you turn off your gas and then must have the gas company come and turn it back on….I am just asking you to be prepared with a tool that you can use if you have an emergency.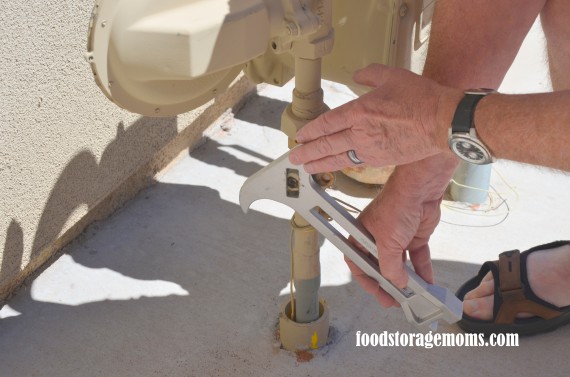 One tool every family needs: On Duty Emergency Gas & Water Shutoff 4-n-1 Tool for Earthquakes, Hurricanes, Fires, Floods, Disasters and Emergencies