How To Stop Your Gym Clothes From Smelling Bad
I was visiting my daughter, Heidi for Christmas and she mentioned this huge tip to me: how to stop your gym clothes from smelling bad. Here's the deal, I wish I could say I need this tip. You know because I am working out every day, I wish! Of course, this is one my New Year's resolutions, you know, start exercising. Same as last year. Anyway, Heidi and her husband work out every day and are healthy and strong. I admire both of them.
Well, Heidi shared her tips on how to keep our gym clothes from smelling bad. I better go get some workout clothes……..just saying.
Gym Clothes
The first important step is to dry the sweaty shirt after working out before you throw it in the laundry basket as shown below. The shirt is the only one she hangs to dry because that's the smelliest one. If you don't sweat much you can skip this step. I would love to break a sweat working out, I need to step up my game.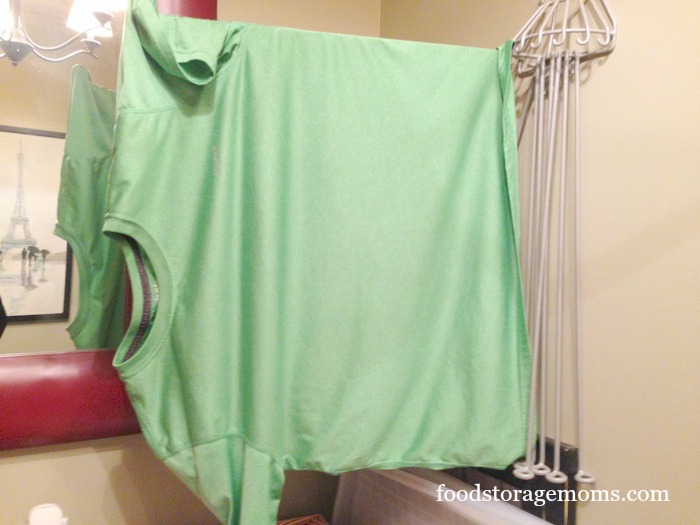 Nate, her husband has three complete outfits to work out in and Heidi washes them every three days in hot water. She places the gym clothes in the washer and scoops 1/4 cup of baking soda right on the pile of dirty gym clothes. She uses 1 tablespoon of liquid detergent as well as the baking soda. She is using regular baking soda, not the washing soda. You can see below she has an OXO container like this one: OXO Good Grips POP Rectangle 1-1/2-Quart Storage Container
. I think this is a great tip because you don't need to go to the kitchen to get the baking soda, it's right there in the laundry basket. She stores the 1/4 cup measuring scoop in the OXO container ready to scoop the needed amount to put in the washing machine. I remember Heidi bought those gray wall hangers from IKEA years ago. Here is one made by the Amish people: Indoor Wooden Wall Mounted Clothes Drying Rack – Made with Pine Wood
. I love the quality of the products made by the Amish people. They are made to last a lifetime.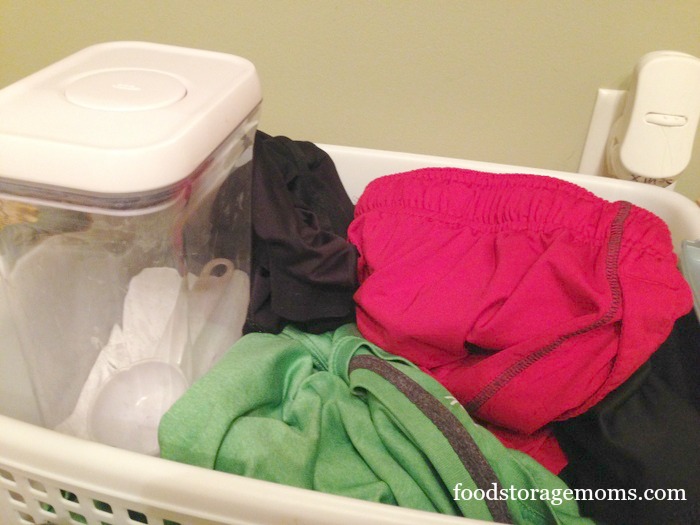 I tried this baking soda trick with my micro fiber bath towels and it works great! Please check your workout clothes to make sure you can wash them in hot water and use baking soda. Another HUGE tip for me was Heidi said NEVER use fabric softener and NEVER put the clothes in the dryer since these steps MAY make the wicking factor less effective. Hang them up to dry after washing. Please let me know any tips you have used to keep your gym clothes from smelling bad. I will add them to my post.
I believe the fabric softener issue is because it's kind of like our micro fiber rags, once you add fabric softener they do not work as well. I am thinking the "wick" stay dry issue of workout clothes may be the same idea. Happy New Year to everyone. Let's help each other start exercising…one day at a time.
One of my favorite websites: Lehman's Laundry Tools and More