How To Make More Space In A Small Kitchen by Adding Shelves
I hope this idea can show you how to make more space in a small kitchen. Have you ever wondered why some cabinet makers make cabinets with so few shelves? Well, my husband and I downsized from a house more than 2-1/2 times bigger than the house we are in right now. Believe me, it was hard to downsize…..in the beginning…..
Our previous kitchen was a lot bigger, we actually had a dining room (which we never used) and a large laundry room. Now I can hardly walk by the washer and dryer without bumping them. But I am thankful I have a laundry room. I have had a lot of time to think about the last few years with cutting back…letting go of stuff….Yep, I am still working on my husband…he is not a hoarder…..but cannot bear to part with anything. Need I say more. I LOVE him, though!
Here is one of the cupboards in the kitchen. I have had those plastic cups so long they might not be BPA Free…..oh well, they work. The pink cereal bowls are for when my granddaughters come….the girls always ask "can I use a pink bowl, grandma"? I have a very small kitchen. Very.Small.Kitchen
We Learned How To Live With Less Space
It has almost been two years that we decided to try and get by with one car. I am trying to show you how we can all get by with less…..it is a challenge, but it works for us. Maybe it can work for you, too! Let's start with small cabinet space….I was bound and determined to make this tiny house work for us. I added LOTS of shelves, thank you to my friends at Classy Closets in St. George, Utah. I would take measurements to them and they must have cut dozens of shelves for me….kitchen, bathroom, laundry room, office, and the garage cabinets! Luckily we had two cars back then and I could haul all the shelves home for installation!
You Can Make A Small Kitchen Seem Larger
Here is my other cupboard where I store my spices and bread pans. By just adding a few more shelves….I have twice the space. I realize I have way too many spices but I love to cook…it's who I am.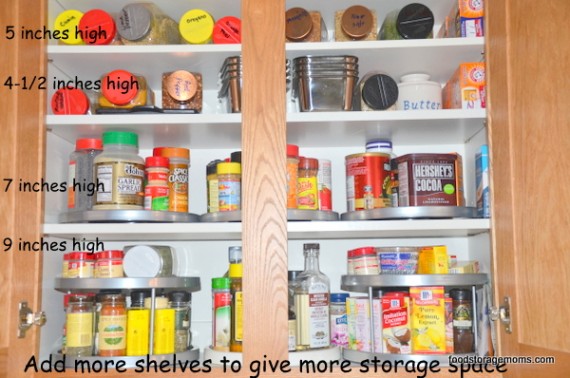 Yep, I can downsize and it works!