How Much Is Your Stuff Costing You Every Month?
How much stuff is in your house, your garage, or your shed? I saw a TV show on Sunday that spotlighted a speaker talking about stuff. He talked about some of us having our garages overflowing with so much stuff that we must park our car or truck outside. He gave statistics about carports, single-car garages, two-car garages and three-car garages. I can't remember the stats, but I had to laugh and giggle at all of them. Yes, I am part of the statistic since I have a three car garage, but one stall is full of my emergency prep stuff so parking a car there isn't an option!!
We have a three-car garage, although that third stall would have to be for a very small car. That's where I store my emergency preps on heavy-duty Costco shelves you can only buy online and they have extra sturdy wheels. We can park two cars in the double-car side. Thank goodness we only have one car because whoever designed these garage stalls must not have had very big cars, or medium cars, only small cars. Very small cars. You get the picture.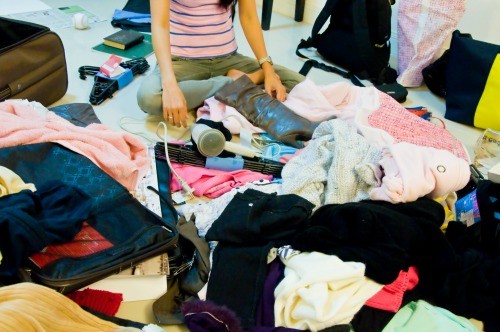 I have talked about decluttering our stuff for a few years now. I guess because I just had a garage sale on Saturday with our junk and made a whopping $16.00. I will NEVER have a garage sale again. I decided to donate everything leftover to the local thrift store. Now, my friend made over $200.00 so that was a good day for her. I'm still decluttering, I think it never ends.
I have made a point to explain when I give something to one of my daughters that they could use and I no longer need, that they need to get rid of something. I don't want them to overload their homes. I have to laugh because the last time a few of my kids came to visit one of my grandsons said: "My mom is a hoarder." First of all, she is not a hoarder like you see on the TV shows. No way. But, I have learned a lot from my older grandkids that are worth considering. They don't want things. Nope, nada. They want to live a more simplified life. I'm very proud of them for that. They don't want stuff. Proud grandma here.
Our Stuff
I decided to break down how much our stuff is costing us every month to have around the house. Some of you may have your homes paid off, your rent may go up or down, every situation is different. I want you to think about how much you spend on rent, your house payment, taxes, and insurance. Look around your home or apartment, you may have a couch, a lounge chair, tables, chairs, bar stools, beds, clothes, towels, food storage, emergency preps (had to throw that those in), shoes, socks, computers and so much other stuff. Take your payment and utilities and divide the amount by the square footage of your home. It may be a little or a lot. Does it matter? It's all about the budget. So each room costs so much to "store" our items.
I went so far as to figure out how much a certain bedroom cost us. I think of my daughter who lives in California since she is the one people always love to stay with. She loves the company, but with the price of renting a home there, it would have cost her $500.00 more each month to accommodate the guests if they only needed one bedroom. I told her to have them bring sleeping bags when they visit and skip the larger more expensive apartment. For the short time the guests stay they can sleep on the couches and floor, particularly the kids.
Storage Units
I have counseled former clients to get rid of those pricey storage units. Often the reason people rent them is that they can't make a decision about which items they need to keep, so they "store" their stuff. Or maybe they think they may need those items someday, so they can't part with them. A typical 10′ by 10′ unit is approximately $165.00 a month where I live. Now they can be more expensive if you need climate-controlled units.
Here's the deal, I am not saying get rid of your belongings, let's be clear here. I just want us to think about how much that storage unit would cost us to store our stuff for say five years at $165.00 a month, that equals $9900.00! YIKES! Sometimes those units are worth it if you are building a new home and need a place to keep the items until you move in. But if you look at the numbers, does it make sense to continue to store and make payments for long periods? You need to decide that for yourself, but often the rent paid is higher than the value of the items being stored.
Why We Hold Onto Stuff
I can't part with my belongings, I may need them one day.
I know someone who has every "Rolling Stone" magazine for the last 20 years or more.
I don't want to do a Garage Sale.
I don't have time to sell the stuff.
I'll go through the stuff in a few months. Then the months turn into years. And so does the payment.
These items are going to be worth a lot of money one day.
These items are too sentimental to give away.
It's too overwhelming to go through all this stuff.
DVD's, CD's, and gadgets we accumulate that could probably be found on Netflix or Apple Store.
Books, magazines we can't part with for some reason.
Old VHS tapes that bring back the good old days.
Empty shoe boxes that can come in handy some day.
I don't know where to start when it comes to getting rid of things.
I hope today this post makes you think a little about what it costs to store/house our stuff. Life is good, enjoy a simple life. May God bless your family. Stay well and stay safe.
My Favorite Things:
Copyright Pictures:
Clutter picture: AdobeStock_27654526 by Sixninepixels