How To Make The Best Homemade Orange Rolls
Have you wanted to learn how to make the best homemade orange rolls? I have you covered today. I ran into an old friend, Teresa at a local kitchen store the other day and she mentioned she loves my cinnamon roll recipe. She said to me, "you should make some orange rolls with your recipe." She is famous here in Southern Utah for her bakery items. I asked her what I needed from the store and she said two oranges and a jar of orange marmalade. I said to her, "which micro plane do you suggest for the orange zest (grated orange rind)?" She mentioned I needed the larger one for orange zest. This is the one I purchased: Microplane 38000 Professional Coarse Grater
When I got home I went right to my mom's recipe box to find her orange roll recipe. Well, I used her orange glaze recipe and the instructions on how to make her orange filling, but I used my bread/roll recipe. I must say, I questioned the sugar amount on my mom's recipe. I made it as is, but I then cut the sugar in half in the orange filling recipe below. Just giving you the heads up, if the picture looks like I am a sugar addict, which I probably am, but it's way too much sugar.
How To Make Homemade Orange Rolls: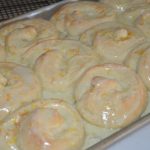 Orange Rolls by Linda Loosli/Food Storage Moms
Ingredients
4

cups

warm milk

8

Tsp.

SAF instant yeast

8

tsp.

dough enhancer

optional-makes your rolls fluffy

4

eggs

½

cup

oil

I use olive oil

3

Tsp.

sea salt

1

cup

sugar

1

cup

warm water

13-14

cups

white bread flour
Instructions
Start with a Bosch Mixer, although you can make this in a bowl. I put the yeast, warm water, salt, oil, and sugar in the bowl. I then add the eggs and lightly mix it in the Bosch so the eggs do not "cook". Then I add the warm milk and flour slowly. I continue to add flour until the bread dough pulls away from the sides of the Bosch bowl. I knead for about 7-8 minutes. I place the dough in a greased bowl and cover with plastic wrap. I let the dough rise until double. I punch down the dough and make a variety of things with this bread dough. Please note that with this recipe today I made 12 orange rolls, 8 crescent rolls, and four-one pound loaves of bread. After greasing the appropriate pans, and filling them with the orange rolls, crescent rolls and loaves of bread, I covered them with plastic wrap to rise one more time. You will set the temperature at 350 degrees for the orange rolls, crescent rolls, and bread loaves. This truly is a no-fail recipe, if you have fresh ingredients.

****For the orange rolls: you roll out a section of the bread dough to 10 inches by 18 inches about 1/2 inch thick, or so. You lather 1/4 cup melted butter on the dough, spread a 1/2 cup of orange marmalade on the butter, sprinkle 1/2 cup sugar (not the one cup of sugar-my mom suggested) on top of the marmalade. Then you start rolling the dough over as shown below. I cut my rolls about one inch thick with a dough scraper like this one: OXO Good Grips Multi-purpose stainless steel scraper & chopper Bake at 350 degrees for about 20 minutes, or until golden brown.

Homemade Orange Rolls:

This is the filling for 12 orange rolls

1/4 cup melted butter

1/2 cup orange marmalade

1/2 cup sugar

Homemade Orange Rolls Glaze:

This is the glaze for 12 rolls:

2 oranges-zest them with a large micro plane and squeeze as much juice as you can out of them

4 cups powdered sugar

1/4 cup melted butter

***Combine the orange zest, orange juice, powdered sugar, and butter together with a spoon and drizzle the glaze onto the hot rolls when you pull them out of the oven. Talk about yummy! Oh my gosh!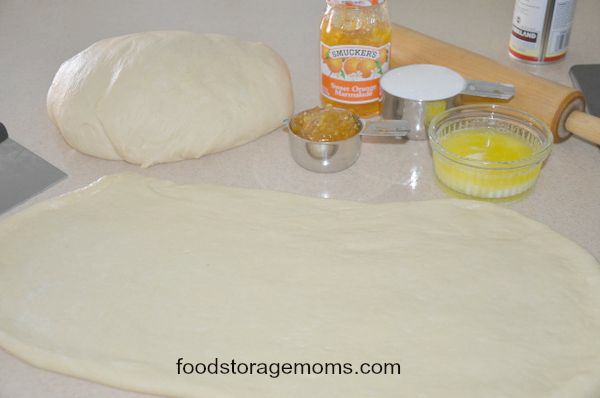 After mixing the dough you roll out a section like this above. This one is 10 inches by 18 inches.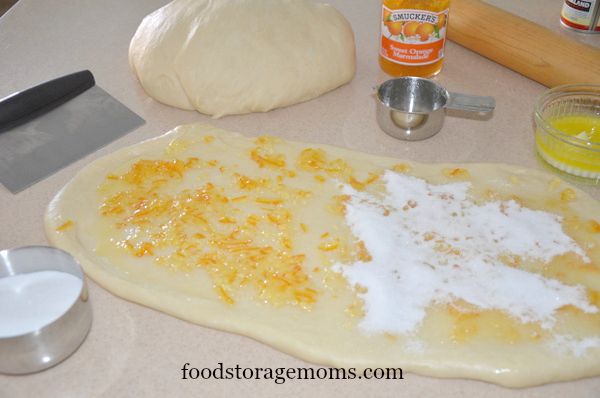 Now, that you have rolled out the dough, you slather the melted butter on top of the dough. Next, you spread the orange marmalade onto the buttered dough. Now sprinkle the sugar on top of the marmalade.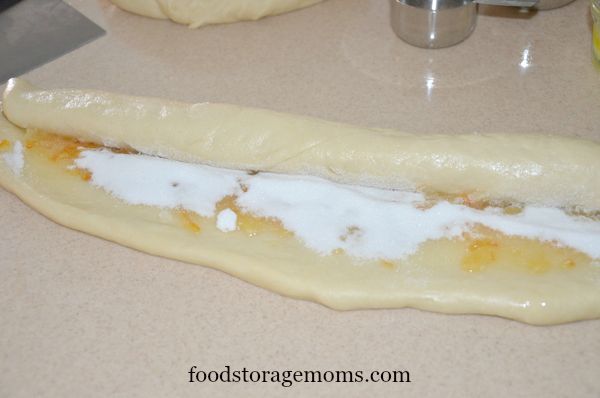 Now you roll the bread dough like the picture above. Oh my goodness, look at all that sugar. When you make these, they will have half of this sugar on them.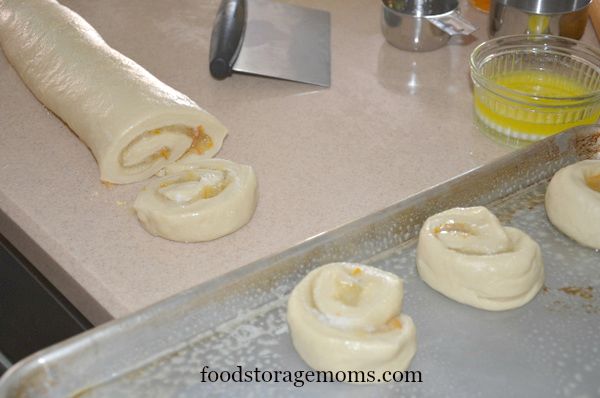 I greased a cookie sheet and cut my orange rolls into inch sections tucking the "tail" under the rolls as I placed the rolls one by one onto the cookie sheet.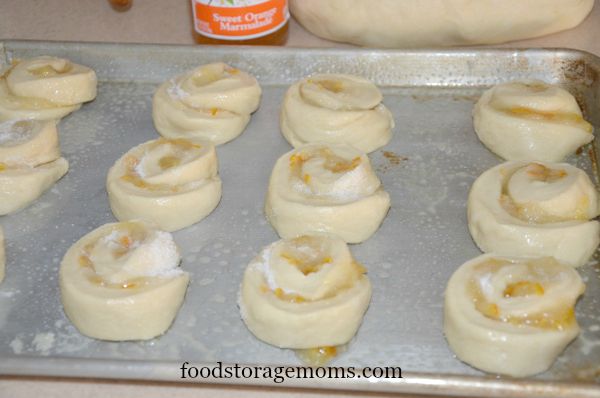 These are ready to bake at 350 degrees for about 20 minutes, or until golden brown.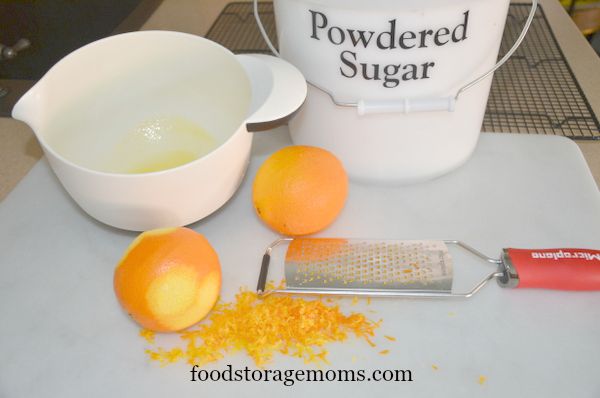 I hope you enjoy this recipe as much as I do! If you can make bread, you can survive in a disaster by eating and/or bartering with a loaf of hot homemade bread.
Now, I live in Utah and here we never make small batches of anything. Yep, I am still baking as if I had 4 daughters still living here. Do we ever outgrow the need to bake or cook large amounts? You can cut this recipe in half, but if you make this size recipe you can make 12 orange rolls, 4-one pound loaves of bread and eight crescent rolls. Yep, that's how we roll here in Utah. Here's what I made with this batch: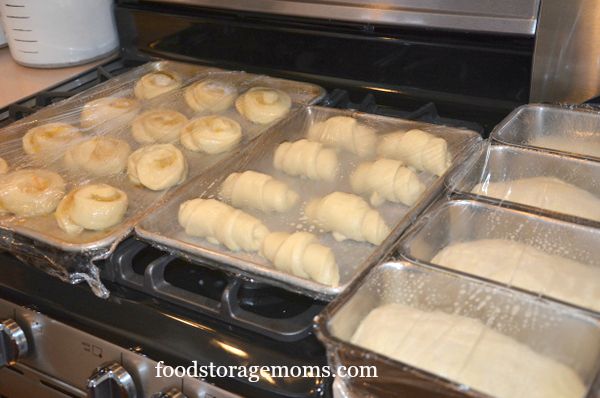 Gotta love bread making! All you do is use a portion of the bread recipe above for making crescent rolls: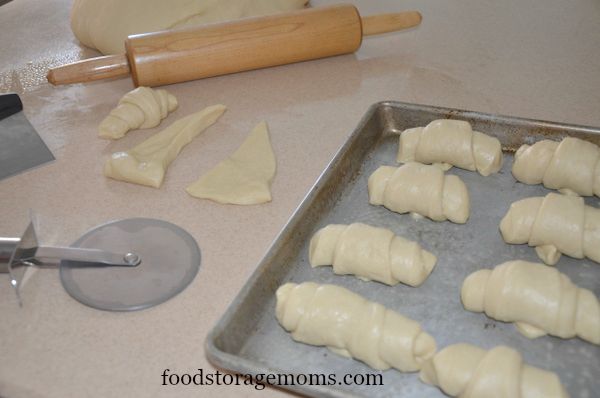 Grease a cookie sheet. Take a portion of bread dough and roll out one 12 inch pizza size circle. Use a pizza cutter to cut 8-10 triangles to make the crescent rolls.  Start rolling the triangles with the large end and tuck the last portion of the dough underneath the roll to secure it in place. Place them on the cookie sheet and cover with greased plastic wrap to let the dough rise. When it doubles in size (about 1-1/2 hours) remove the plastic wrap and bake at 350 degrees for about 20 minutes, or until golden brown. I like to butter the tops of rolls after baking to make a soft roll.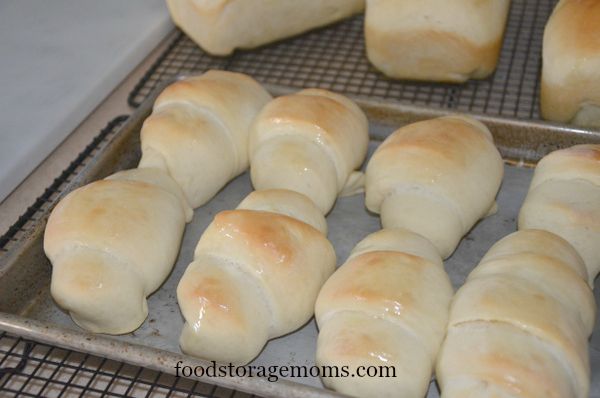 If you decide to make bread, I used 4-one pound loaves about 5 inches by 8 inches in diameter. Bake them at 350 degrees for about 27-30 minutes, or until golden brown. Please let me know if you make orange rolls or if you try this recipe for something else! I would love to hear from you. Have fun baking.