Guacamole Recipe With One Secret Ingredient
I want to share this Guacamole Recipe With One Secret Ingredient with you today. My brother-in-law, Ron makes the best guacamole. I usually buy it ready made. There is a big difference between homemade guacamole and the one you can purchase at the store. But sometimes we cannot get good avocados, so I buy the ready-made stuff. I pick up fresh Cilantro whenever I go to the store, or I use the Cilantro I dehydrated myself.
I really should have been born in Mexico because I love Mexican food and salsa.  People tend to forget that guacamole can be added to many different foods to spice up the flavor.  Besides the dip suggested here, we add guacamole to all our Mexican dishes, such as tacos, burritos, tostadas, enchiladas, and more.  I often add it to a sandwich as a topping or sauce.  It can be used on a Mexican pizza to make it very special.  Don't be afraid to try guacamole with any vegetable entree and impress your family and friends.
Well, have you guessed what the one secret ingredient is? It's Salba Chia, I add it to everything! I add it to muffins, bread, eggs, smoothies, etc. Of course, I always add it to my water each day as well. Which one of your recipes would you use my secret ingredient in to increase the nutrients? You can add it your water bottle/container each day like I do and you will benefit from the nutrients, and it makes you feel full at the same time. Do you feel like making my guacamole recipe with one secret ingredient right now?
Here is some information on Salba Chia:
Salba Chia Gram for Gram provides . . .
325% more fiber than oatmeal
800% more Omega-3 (ALA) than salmon (EPA/DHA)
30% more antioxidants than blueberries (based on ORAC values)
1500% more magnesium than broccoli
200% more potassium than bananas
THREE TIMES more IRON than SPINACH
Guacamole Recipe With One Secret Ingredient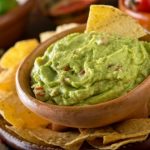 Guacamole Recipe by Food Storage Moms
Ingredients
3

avocados

¼

cup

chopped onion

¼

cup

sour cream

1

cup

chopped Cilantro

juice of one lime or 2 True Lime packets

dash of cayenne

black pepper & cumin
Instructions
Remove the avocado skins and the pit. Mash the avocados in a medium bowl and add the remaining ingredients until blended. Serve with chips, veggies or as a side dish.