How To Grind Whole Wheat To Make Bread
If you want to learn how to grind whole wheat to make bread, I will show you how today with a NutrilMill L'Equip wheat grinder. I have had this one for several years and all of my daughters have one as well. It's a great machine and will grind your whole wheat very fine. I prefer fine flour to make my bread over coarse flour. I grew up watching my mom make bread in a large silver bowl. When I was first married I carried on the tradition with my own large silver bowl. Eventually, I saved enough money to buy a Bosch bread maker. I'm on my third Bosch bread machine. I wore out the first one and handed down the second one to one of my daughters. It's the best investment I have ever made, besides my wheat grinders. This is why I'm showing you this post today.
If you can learn to make bread you can cut your grocery bill big time. It also teaches your children the art of making bread so that they can carry on the tradition. The recipes I have for you below are no-fail recipes if you use fresh ingredients. If you want to make white bread you need to buy bread flour because it makes a fluffier bread. Please keep in mind that whole wheat flour must be placed in the freezer right after grinding to keep the nutrients, as well as keep it from going rancid. White flour has a shelf-life of 12-18 months if stored properly. I only buy the amount of white flour I will use in 12 months. Yes, it does go rancid as well.
How To Grind Whole Wheat: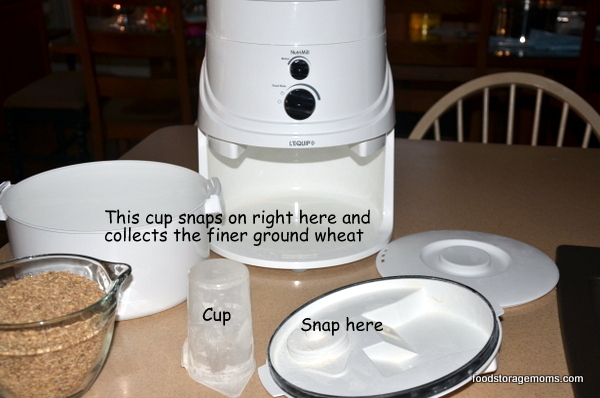 The little plastic cup collects some extra fine ground wheat, I just dump it in with the rest of the freshly ground wheat. It just snaps on as shown below.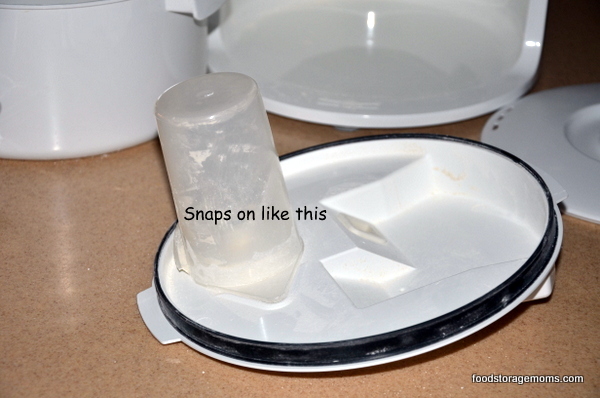 The gray looking "sponge" filter piece keeps you from getting flour all over you and your house.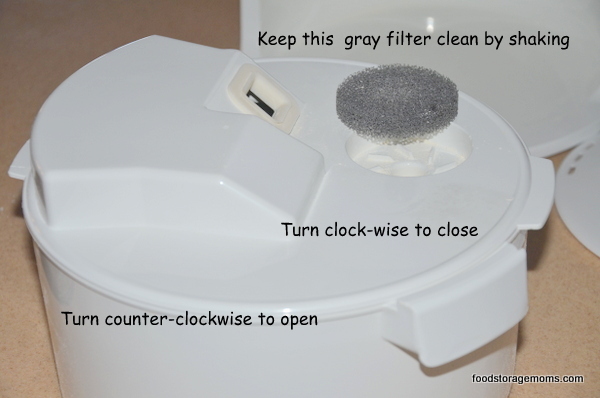 I never wash anything except the first time when I took it out of the box when purchased. Obviously, you would not wash the big machine with the cord. I just wipe it down. I never wash my bowl, lid or sponge piece. One thing I will tell you right here, when I first got this wheat grinder I tried everything to turn the lid open and closed. I dusted it with flour as directed. Nope….it did not twist right. I took it back to the store where I purchased it and they said I did in fact, have a warped bowl. They instantly replaced it free of charge. It was brand new. They tried closing it and it would not twist open or shut. So, please keep that in mind when you purchase yours. I tested one on display at the store and it twisted open and closed with zero flour……easy.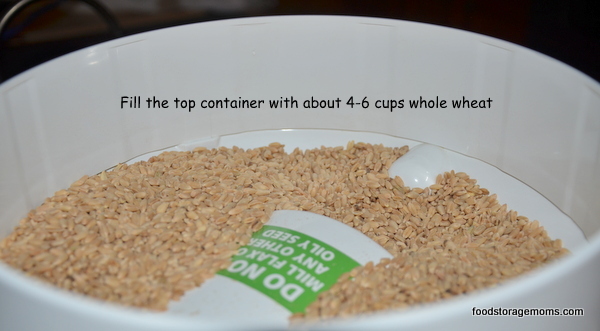 Here I have the wheat extender on so I can put more wheat berries into the top. I never take it off. I usually grind 8 cups of wheat first then empty the bowl. Then I put another 4 cups of wheat in to finish grinding what I need for each batch of bread that I make. Everyone does this differently I am sure, I am just telling you what works for me.
Here I am showing you how I set the top button to determine the texture of the wheat.  I never change it, it is always all the way to the left or counter-clockwise. If you want it a little coarser you can turn it to the right. It will not make a cereal type texture. You can grind so many things, but not oily seeds like Flaxseed. Be sure and read the directions before you decide to grind something. I prefer my flour very fine.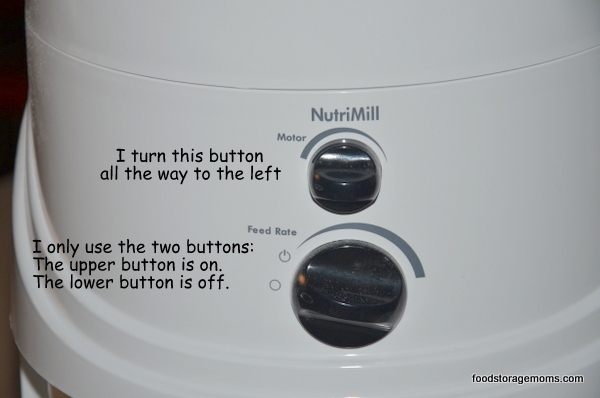 The lower black button is off if turned to the bottom. It will turn on when I turn it to the tiny button with the line through it. I never turn it farther right.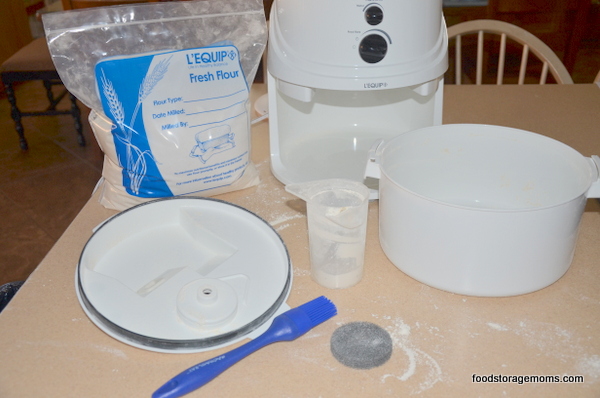 Here I use a plastic butter spreader to whisk the flour out of the crevices. I use a dry cloth to remove any excess. I grind my wheat a couple of days ahead of making bread. I just freeze it in these L'Equip bags. Most people grind the wheat and make their bread right then, that doesn't work for me. You will learn what works for you and your family. These bags are reusable for a few times: Extra Bags for Flour Bagger (Set of 10)
I hope this inspires you to learn to make bread. I must say, I LOVE the feel of bread dough, there is nothing more rewarding to me than making several loaves of bread. Here is a link to some of my bread recipes: Food Storage Moms Bread Recipes and Whole-Wheat-Bread-For-Two Recipe and Whole-Wheat-Bread Recipe and French Bread Recipe and No Fail White Bread Recipe by Food Storage Moms and White-Bread-For-Two Recipe and Cinnamon-Rolls Recipe
Let me know if you make bread or grind whole wheat, I would love to hear! Remember, if you can make bread you can survive almost any disaster. It will fill your belly with the fruit and vegetables you can grow and preserve. You can barter a loaf of bread for just about anything. If you start with a large silver bowl and fresh ingredients you can do it, I promise. Adcraft SBL-30 30 qt Capacity, 22-5/8″ OD x 7-1/2″ Depth, Stainless Steel Extra Large Mixing Bowl with Mirror Finish