Ozark Oak Lump Charcoal:
I store Ozark Oak Lump Charcoal in airtight buckets instead of regular charcoal we use in barbeques. I researched about chemicals in charcoal  and decided for my family I would opt for the Ozark brand lump charcoal.  On the Emergency Essentials website, I read that we need approximately fifteen-20-pound bags of charcoal in order to cook one hot meal a day for one year. I ordered Red 6 gallon buckets and Red Gamma Lids to store my Ozark Coal. It lasts indefinitely. I like that I can store it  and forget it until I NEED it. You can buy this lump charcoal here: Ozark Lump Charcoal
InstaFire Starter:
I like the InstaFire fire starter. I bought this product in 5 and 6-gallon buckets as well as some individual packets for 72-hour kits. This product is amazing. You can start a fire in the snow (the demonstration shows this on their website). I tried it one day that we had snow here in St.George, Utah. I have used it in my Volcano II Stove with the Ozark Lump Charcoal. It works great! You just need a fire starter flint or matches to get it started. You can store it in your garage. It states it is not combustible. I did replace the lids with  Gamma Lids. They are airtight and twist easily.InstaFire Eco-Friendly Granulated Single Use Charcoal Briquette Starter Pouch, Pack of 18
Propane:
I purchased some empty propane containers and had them filled with propane. I store these away from my house. I also have a dozen or so of the smaller pint size propane containers. I like to have more than one source of fuel. It's not practical to purchase and store firewood where I live. If you can safely store more than one type of fuel I would highly recommend that you do.
Butane:
I decided to buy a few cans of Butane for a Portable Butane Stove that I purchased. It came complete with a suitcase-type container to store it in. It's a quick grab and go item for emergencies or just for the park (flame permitting, of course). Here is the one I purchased:Camp Chef Butane 1 Burner Stove with Camping Case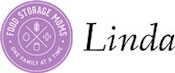 This post may contain affiliate links, including Amazon.com. Using links to these sites means I may earn a small percentage of the purchase at no extra cost to you.