Easy To Make French Bread Rolls In One Hour
Today was a great day to make my easy to make French Bread Rolls in one hour! The Rose Parade was so exciting to watch and then the football started for my husband who really loves watching any sport on the television. I used my RED Kitchen Aid I received over the holidays. It actually worked great, and there is just something about that RED color. I have only had black or white appliances my whole life, so I am feeling a bit spoiled even though I spend about 6 hours a day in the kitchen and will put that baby to good use!
These French bread rolls are so easy to make, and I can make them anytime at the last minute for dinner or take to a dinner party. I used a Commercial French Baguette Pan with perforated holes that make the crust crispy!  It's a pan made by USA Pan with a nonstick silicone coating. I still spray my USA Pan's with a vegetable spray even though they say they are non-stick. This pan measures 9-1/2 inches by 16 inches. I love making soup in the wintertime, so to have this easy recipe to make rolls at the last minute just makes it perfect for any meal. My brother-in-law, Ron made some yummy North Bay Trading 32 bean soup with ham added to go along with the rolls!
Here is how it should look when the dough is totally mixed and pulling away from the sides of the mixer.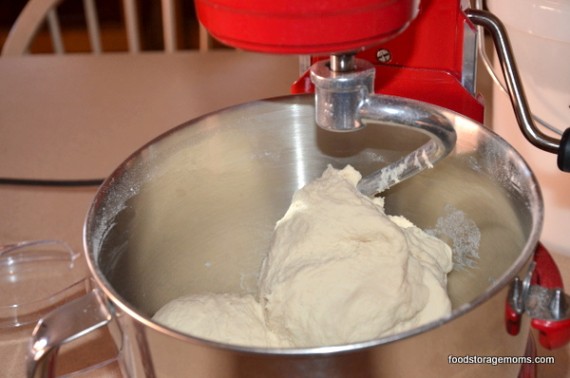 I am still learning how to make the "shallow slits" on top of the dough, but they still tasted yummy! *Note-next time not so deep with the sharp knife.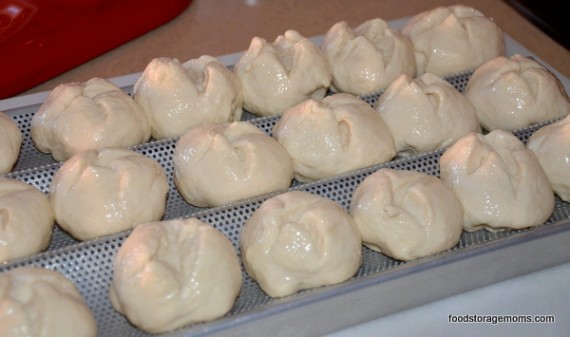 Easy French Bread Rolls In One Hour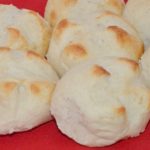 Easy French Bread Rolls In One Hour
Ingredients
2-1/2

cups

hot water

2

tablespoons

SAF instant yeast

2

tablespoons

sugar

2

teaspoons

Real Salt

5-1/2

cups

white flour or freshly ground hard white wheat

egg whites

to slather on rolls to make them crusty

sesame seeds or poppy seeds

(optional) sprinkle on egg whites before the 2nd bread rise time
Instructions
Mix everything in the order shown except the egg whites and optional seeds. Knead for about five minutes in a bread mixer. Let rest for 15 minutes covered. Shape the dough into 18 rolls and place on a greased cookie sheet. Lather the tops of the rolls with the egg whites cut a shallow X on top of the rolls. Next, sprinkle seeds if desired. Let rise one more time about 15 minutes. Preheat the oven to 450 degrees and bake for 15 minutes.
French Bread Pans: