Easy To Make Four Ingredient Grape Walnut Salad
Have you heard about a four ingredient grape walnut salad? The month of May is salad month so I thought I would share this recipe that a neighbor, Marsha shared the recipe with me. Marsha told me her family uses pecans or almonds rather than walnuts. She mentioned this is one of her family's favorite salads. You can use sliced almonds, pecans, or in my case I used walnuts. I had some in the freezer and oh my gosh this salad is yummy! There is something about cream cheese and that marshmallow creme combination that just hits the spot! Make sure you keep it in the refrigerator after you make it so it stays fresh, but also since the cold texture makes it taste so much better. What a great summertime treat.  We've been eating this salad all week.
Often at night we take a small dish and eat it like you would some ice cream. I like the fact that although it has a sweet flavor, it has fruit and nuts to add a healthy element.  Depending on the type of grapes you use the flavor changes slightly. Be aware that this recipe can be flexible to your whims by using the various varieties of nuts, but also whatever summer berries suit your fancy.  Be creative and try all your favorites.
This would be a great family reunion salad or a side dish for any day of the week.  This is an easy and refreshing salad to take to a neighborhood get together as well. You can use red grapes, green grapes or a combination of both. I love the fact that I have most of the food items in my food storage stash, so if I pick up grapes I am good to go.
Four Ingredient Grape Walnut Salad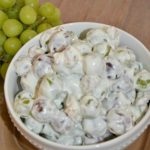 Four Ingredient Grape Walnut Salad
Ingredients
1-8-

ounce

softened cream cheese

1-13-

ounce

marshmallow creme

3

pounds

of grapes-washed and removed from the stems

1

cup

walnuts

bite size
Instructions
Combine the cream cheese and marshmallow creme. Stir in the grapes and walnuts. Serve cold.