Food Storage-Self-Sufficiency-Survival
My friend, Angela has just released her new book: Food Storage For Self-Sufficiency And Survival. First of all, she is knows all the ins and outs of home storage, self-sufficiency and survival. She has a podcast where she interviews people about various topics concerning these items. She researches them, lives them and teaches them to others. Today I am doing a review on this book and she has graciously given me another to use as a giveaway for one of our readers. Thank you Angela! I highly recommend this book. FREE copy giveaway below.Here is my review of Angela Paskett's book, Food Storage For Self-Sufficiency And Survival:
Are you are a bit uncertain about how life is going with unemployment, crazy weather patterns, and rising costs? Then this book will bring you some peace of mind. It is organized and precise and certainly leads you into a path to follow and expand, if you wish.
Going straight to the contents and you'll find you have many topics to choose from!  Whether you are new to being prepared, or a pro, it offers many tips, ideas and worksheets for your preparedness journey.
Angela Paskett has done her homework in life and for her book there is a freedom of order and peace when you are prepared. Even if you are just starting out you will get excited.
The appendix is amazing and very well organized!  With menu lists, tools you may need, places to go to further educate yourself.  I think it is motivating and you really see the vital importance of being prepared today.
My favorite topics in this book:
1. Food for 72 hour emergency kits: how many times have you asked yourself what do I need, including how much food do I need for a 72 hour kit? She will tell you what food storage is great for your 72 hour kits.
2. Food for short-term emergencies: two weeks to three months. Angela breaks it down in easy steps to help you be prepared.
3. For for long-term emergencies: three months or longer. She takes it one step further to explain more ways to gather the necessary amounts to plan for your family.
4. Storing water: we all know we need water to sustain life. She shows you the amounts, how to store it, and even water purfication methods.
5. Preserving your own food: canning, dehydrating and freezing your own produce, or produce you purchase…she nails it!
6. Packing dry foods for long-term storage: food storage has many enemies that can destroy our food storage-pests, moisture and oxygen are just a few. She details the ways to protect our food.
7. Buying food: you know long  term food storage is an investment. We all suggest buy a little at a time. You don't have to go over board using credit to buy your food storage. Angela shows us ways to fill your pantry that are budget-friendly and practical.
8. Maintaining balance and variety: she shows how to have a variety of foods so you don't have to have just rice and beans or beans and rice for every meal. Remember, its all about Food Storage-Self-Sufficiency-Survival.
9. Sustaining food storage: this book shows how we have sustainable food sources. For instance, gardening, livestock or hunting that help extend your food storage supply.
10. Organizing and storing your own food: this is key to knowing what you have and what you need to replace. Even if your space is limited she has ways to help you organize your food storage.
11. Using your food storage: Angela shows you how to use your food storage everyday, and storing for long-term. I have always said (not sure who originally said it), "store what you eat and eat what you store." I love the title of her book: Food Storage For Self-Sufficiency-Survival
As I finished reading the book I looked through her resources and worksheets in the back. I see my website is listed as one of the Food Storage Blogs! I had no idea she was  putting "Food Storage Moms"  in the book! I am very flattered, but I must tell you from my heart, she knows her stuff and she nails it on every topic! This book is all about Food Storage-Self-Sufficiency-Survival.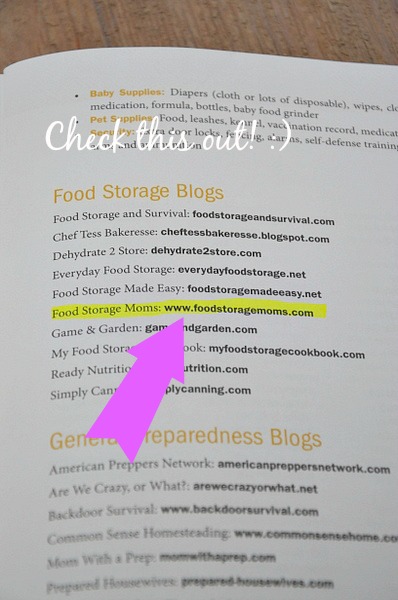 I am going to ship one of the books Angela sent me to someone who leaves a comment on my blog today. I will randomly choose a winner within 7 days based on the unique question posed. If you have a question about any topic….I will let you know if the answer is in the book! I will ship this book to the US and Canada. Let the comments begin:
Angela's Food Storage and Survival blog