First Aid Kit For Day Hiking Is Critical For Safety
Have you ever wondered what to put in a first aid kit for day hiking? We are coming into the season of hiking! When you are five miles down a trail it is a bit late to get a blister or small splinter and NOT be prepared. A well-stocked first-aid kit could save your day ( and maybe lives as well). But many hikers don't even think about band-aids, let alone anything else!!
Many people buy pre-made kits, but they are very bulky and likely to be left at home. You can make your own light, useful kit yourself. I made this printable for you below but I am starting with a few of the items you might need on a typical day hike.
First Aid Kit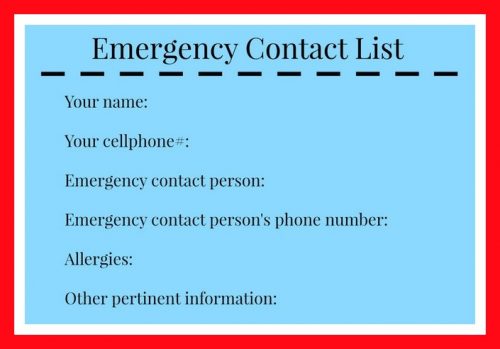 If you have a first aid kit that is great. But if you do not here are a few ideas to get you started with that first aid kit for day hiking. Start with some bandages and pieces of gauze in several different sizes. Grab some moleskin ( this helps to prevent blisters and protect wounds ). Also, pain relievers, a small flat packet of antibiotic gel, sharp-pointed tweezers, and latex- free gloves. Sunblock, a multi-tool, and a small flashlight (or flashlight app on your phone) can be very useful! You can purchase all these items at your local Wal-Mart or Walgreens.
And the cost is really minimal because any extra you have can be put in your car or home first -aid kit. But take it easy as your kit should only weigh about 6 ounces .. the weight of your phone. Taking the time to prepare can give you peace of mind and help you have a fabulous day!! This picture of my stuff probably weighs a little more than the suggested 6 ounces…..but you get the jest of the idea. Obviously, the sunblock tube is too large to haul but could be used for several people.
Look in your local area for great hikes to take with your family, friends, animals (ok .. maybe NOT your turtle), neighbors or co-workers I have included a printable for emergency information that you can fill out and put in your kit, OR laminate and put a hole in it and grab a ring to put on your backpack . Hopefully, you will never need it, but if you do… VOILA!! You are even more prepared! Enjoy nature at its finest! If you think of something else you would add to your first aid kit for day hiking….let me know and I will add it to this list. Have a fabulous and safe day!!
Here is the PRINTABLE for the Emergency Contact List for Hiking. Please print it out and fill in the information and have it available so people can help you in case you become hurt on your hike.
Utah State Parks I just Googled "Utah State Parks" because I live in Utah. Be sure and Google your state and see the parks available in your area.
National Parks Get an annual pass, a pass for military and senior citizens. Some rules apply. But these are a great way to take a road trip!