My Favorite Chocolate Chip Cookie Recipe
This is my all-time favorite chocolate chip cookie recipe. It's one of those that make a lot of cookies so you can freeze them, share them or take them to a party.
Well, before I could think of anything else, I was getting butter out of the refrigerator to let it soften. Of course, if I am going to make cookies, they usually have chocolate chips in them. This recipe makes quite a few cookies. I like it because it has chocolate chips, coconut, and real butter. This chocolate chip recipe is perfect for family reunions, neighborhood parties or church activities. I have another chocolate chip recipe that is yummy too…Besides having these cookies available for a treat here at home, I usually give them to a great neighbor/friend who might as well be called Miss Welcome Wagon.
She uses my cookies as a "Hi Welcome to the Neighborhood" gift, a "Things Will Get Better Soon" gift to those going through a tough time, or a "Hope You Enjoy Your New Home and Neighborhood" for those leaving our area and starting a new adventure elsewhere.  These cookies are delicious, but they have some great healthy ingredients.  I love foods that combine that special sweet flavor we all seek, with items from the pantry that can qualify as foodstuffs we are good tasting and good for you too.  So enjoy, and don't feel guilty as you chew every delicious bite.
Chocolate Chip Cookie Recipe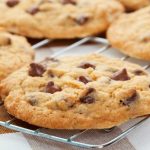 Chocolate Chip Cookie Recipe
Ingredients
2

cups

butter

softened

1⅓

cup

sugar

1⅔

cup

brown sugar

1

tablespoon

vanilla

4

eggs

5

cups

flour (I use bread flour)

2

cups

oats (I use regular oats)

1

cup

shredded coconut

2

teaspoons

salt

2

teaspoons

baking soda

2

cups

chocolate chips
Instructions
Preheat the oven to 350 degrees. Combine butter, white sugar, brown sugar, vanilla, and eggs.

Add flour, oats, coconut, salt, baking soda. Fold in the chocolate chips. Scoop by ⅛ cup spoonfuls onto a greased cookie sheet. Bake for about 12 minutes or until golden brown.
Copyright picture:
Cookies: AdobeStock_32882124 by Brenda Carson