What Emergency Stove Should I Buy Today
I am asked all the time, "what emergency stove should I buy today?" This is the number one emergency stove I recommend because it uses very little fuel and it's cheap to buy. I have sent one of these stoves to three of my daughters and I am getting ready to ship one to my fourth daughter.
If you have a gas barbecue that's awesome, but gas barbecues use a lot of propane to boil a pot of water. It's a good idea to store several tanks of propane if your city and county allow it. Don't get me wrong, I love my barbecue, but it's not practical in an emergency situation unless you have a freezer full of meat you want to serve the neighborhood because the power has been out for four to five days.
As fall and winter approaches, I always like to make sure I have plenty of fuel and different ways to cook should we lose power. I actually used my butane stove when I gave my electric glass top stove to my daughter and had to wait three months to get a gas line run for a gas stove. Yes, this stove works great and uses very little fuel.
Oh yes, we can have sandwiches, crackers and many more non-cooked items for meals for a short time anyway. But what happens if we lose power for a week, two weeks or more. I would much rather have some hot macaroni and cheese. We could all make do with whatever we have in our pantry or empty the refrigerator of the perishable food items. But I want to be able to boil water if I need to, or cook a hot meal when the power is out.
I suggest with winter coming to please think about getting some kind of a small stove if you have no other heat source. If you have a fireplace you could rig up something, if you have wood or coal to burn. If you have a wood burning stove you will be set if you have the fuel stored. We used to have one, they are awesome to heat your home or cook on. We hauled lumber every year, we even used coal. Now I have blankets stored to keep us warm.
How To Use A Butane Emergency Stove:
You don't have to spend a lot of money on anything. This particular stove, the Gourmet Chef, I am showing today is fairly inexpensive. I have cooked on a stove just like this in cooking classes. I have had this one a very long time, I bought this brand for my daughter's: Camp Chef Butane 1 Burner Stove with Camping Case
 and I suggest extra fuel: GasOne Butane Fuel Canister (12 Pack)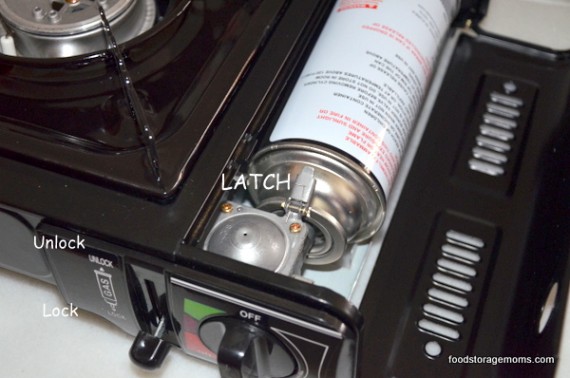 The right side of the stove opens up to load the butane canister of fuel. You remove the red cap and slip the canister in and it lays in the shallow area where the latch is on the top right side. Make sure the notch in the top of the canister is pointing up when laid in the slot. You close the side lid and slowly ignite the stove. Yep, you are ready to cook! I have used mine so many times I have to use a match or lighter to ignite the flame.
I crack the window when I use this indoors, the instructions say use outdoors only. I would never use any other kind of stove inside with any other fuel. To be safe you can cook on it outside and not worry about the fumes or flammability. Please follow the directions and be safe while cooking on this emergency stove. Butane is highly flammable.
Butane Emergency Stove:
What's really nice about one of these stoves you can take them camping, to family reunions or to the park. Always check with the location you are planning on using this little gem to cook your meals just to sure you don't get a citation or something.
Butane Shelf Life:
I have heard 8 years but, I have also heard 1-2 years. If the fuel dissipates out of the canisters we will all soon know the real shelf life of butane.
Propane Shelf Life: Indefinitely
Survival food storage by Linda