How To Make An Emergency Mommy Kit Today
Do you know how to make an emergency mommy kit? It seems like just yesterday that I had one baby resting on my hip and another toddler hanging on my leg. At the time I thought it was a bit hard being a mom. It was something I wanted my whole life…to be a mother. I was blessed with four daughters. But being a mom is not an easy thing to do 24/7. We are the ones packing the car for road trips, usually. Oh, and getting the kids ready for church. Then there is laundry, meals, homework, etc. It is sometimes hard to remember everything, do you know what I am talking about?
Well, I have been observing young mothers in stores, parks and even at family reunions. Here's the deal, when you have a baby most mothers have a diaper bag. This bag can be an expensive diaper bag or just a large purse with a few extra items you might need for the baby. I wrote a post on Emergency Car Kits but this post is just for MOM or GRANDMA! Oh, I can't leave out DAD or GRANDPA! I am going to tell you what I tried to do with this emergency mommy kit. I have a small car and I was hoping if I bought two lingerie laundry bags @$1.50 each I could achieve my planned goal. Well, the little pockets behind the front passenger seat was a perfect fit for four bottles of water to fit snuggly in there. Where I live it is extremely hot…with temperatures well over 100 degrees. If I am ever stranded I HAVE to have water. If I see someone in need of water I have some in my car at all times. It's who I am.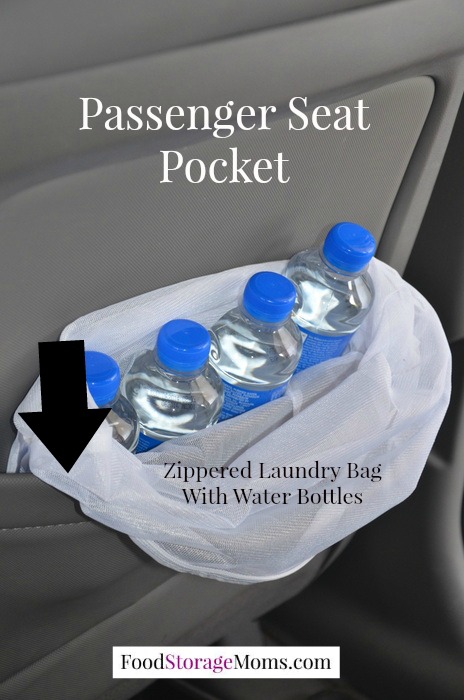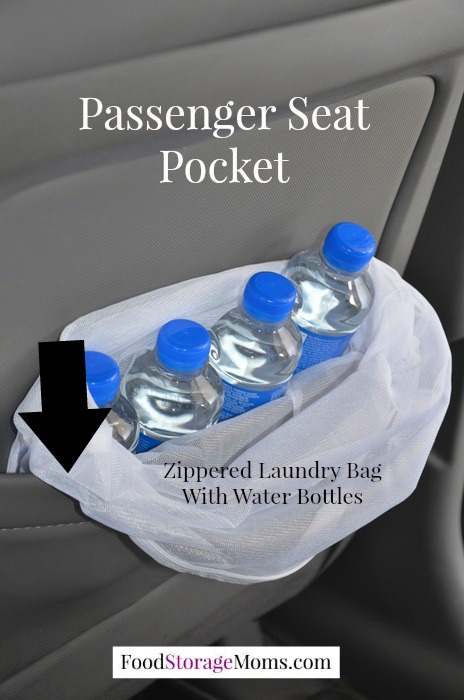 Well, now I tried to put my zippered laundry bag (approximately 15 inches by 18 inches) with all the items I have in the first picture shown above in that same seat pocket….hmmm…no it would not fit in the pocket. Dang! It would be a perfect fit for a like a minivan or family size sedan.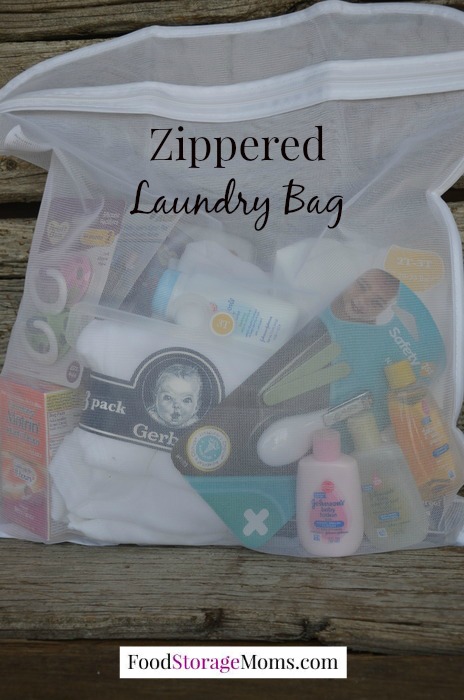 So, I got one of my spare ammo boxes. I started filling the baby or toddler items in it. Perfect fit with some room to spare for some food items and some extra disposable diapers. I put cloth diapers and water proof pants with some safety pins as well in the ammo box. I also put in some training pants. I still remember the potty training days..who couldn't use some extra dry underpants for a toddler?  I just think sometimes we have so many things to remember that maybe if we had an emergency mommy kit it would give us one more angle to be prepared for whatever happens with our little ones.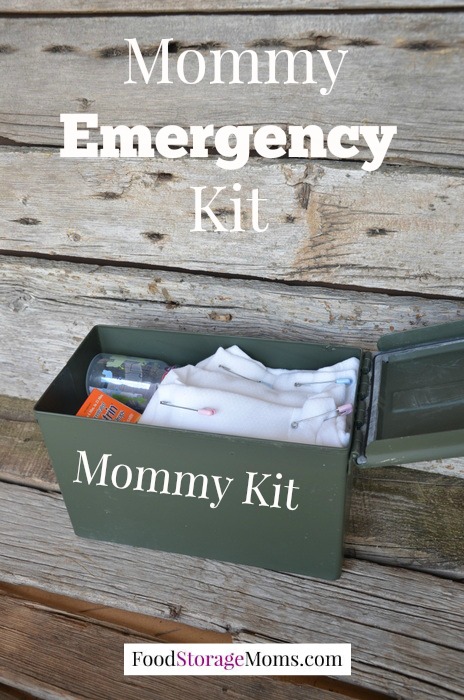 I am not sure if you can see all the things I thought we might need in the Emergency Mommy Kit.  Of course, you will fill yours with your most important items for the ages of your children or grandchildren.
Here is an Emergency Mommy Kit list:
1. diapers-disposable as well as cloth diapers with waterproof pants
2. underwear-potty training ones
3. water is in the lingerie/laundry bag in the car by itself-we need water for sure
4. baby nail clippers
5. baby lotion
6. baby liquid soap
7. diaper rash ointment
8. empty bottle-you can at least fill it with water it if need be
9. binkies or pacifiers
10. baby powder
11. baby or toddler Motrin
12. baby tearless shampoo
13. baby wipes
14. I would add your favorite snack (I did not put one in the ammo box) but there is plenty of room for more items
15. baby diaper safety pins
16. band-aids & Neosporin type ointment (although I do have my regular first aid kit in the car as well)
17. small adult-sized t-shirt
18. dress or shirt for mommy if needed (spit up or whatever happens)
I thought about using a plastic container, but the ammo box worked great with a very secure latch for an emergency mommy kit. These items would be the bare minimum needed, but it is better than not having any diapers or dry clean underwear for a toddler. I have been at homes where several of these items would have been great to have available to share with someone in need of any or all the items above. It's all about being prepared for the unexpected.
PRINTABLE List: Kit by Food Storage Moms