Emergency Meals Ready After Any Disaster
It's day two of my get ready for emergency meals by sharing some lunch ideas with you today. Last year was a brutal winter for many  communities worldwide. We had record snowfalls and it looks like we are heading that way again this year. On the news yesterday a reporter mentioned a whopping five feet of snow fell just outside of Buffalo, New York with more due to fall today, and more is on the way this weekend…oh my goodness. This is a good reason to make sure our pantries are packed with a few extra items in case traveling due to the ice and the snow is impossible. Last year I remember several people sending me emails about running out of milk or bread when the roads were iced over.
Emergency Meals Lunch Number One:
Please keep in mind these are only suggestions. We all have certain diets and can't eat certain food items. I would love to say I will run out to my garden and pick some fresh tomatoes. Everything in the garden is cleaned out waiting to be replanted next year. So my pantry, freezer or refrigerator will be my only choice to feed my family if the roads are iced over or we have a power outage that goes on for days. I need to be able to open the pantry at least and scrounge for some items. Here is my post about breakfast meals from yesterday. So here we go with lunch.
The two containers above on the left are freeze-dried celery and onions. Here's the deal, freeze dried foods do not have to be re-hydrated like dehydrated food. You can add these to any recipe and make a sandwich or a salad  with mayonnaise stirred into it. You would need to be able to boil water to cook the bowtie macaron, but a $20.00ish butane stove works great inside your home. If you have a gas stove you can use a match to light a burner to cook it as well. If you have crackers….take some canned chicken or tuna, add some relish, mayonnaise, and lunch is ready in no time at all.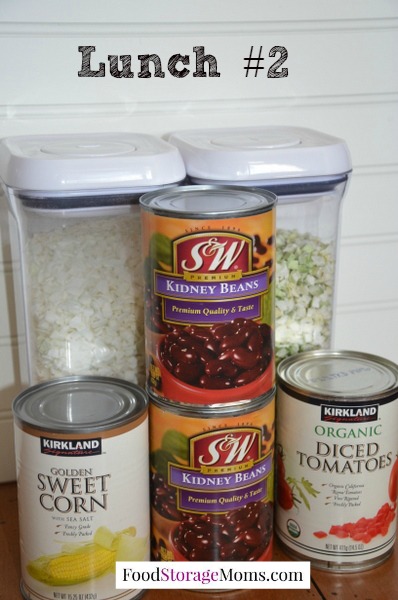 Emergency Meals Lunch Number Two:
Here again, if you have a butane stove you can make some chili if you have canned beans, tomatoes, and corn. Add some freeze dried vegetables like onion and celery  and you have a hearty soup. Grab your favorite spices to spice up the chili, add some crackers…another lunch is ready in a pinch. If you have some canned fruit serve it as a side dish. Please remember, you need a can opener. I keep several can openers in my emergency buckets. If one wears out or falls apart…no worries, I have more can openers ready to do the job.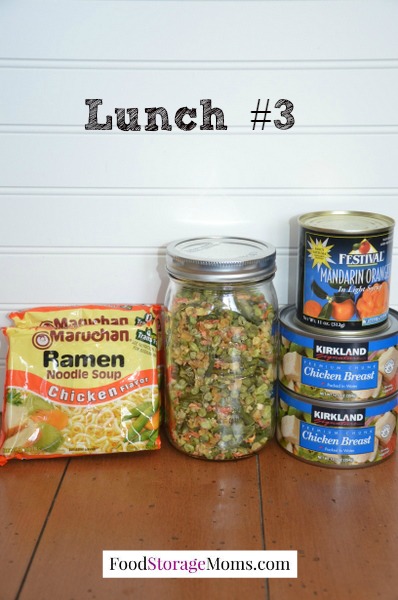 Emergency Meals Lunch Number Three:
Here is lunch number three to add to you emergency meals. This one is good old Snack Ramen with some dehydrated veggies I made from frozen vegetables. Add some canned chicken and some  canned fruit and you have another great lunch. I realize Snack Ramen is probably not the most healthy food item, but I also must be realistic. I'm thinking I might have a few neighbors that only have food for today in their kitchen. I can at least share some quick hot soup with them for a day or two.
Emergency Meals Lunch Number Four:
This is lunch number four,complete with my old standby peanut butter and jelly. Add some crackers if you are out of bread and your emergency meal is complete by adding some fruit. The fruit above is my grandkid's favorite, freeze dried pineapple. Oh, another thing that is awesome is freeze dried corn (not in picture) you can eat it right out of the can as well. Yummy! Now if you have some bread in the freezer you can always pull a loaf out and thaw it. I am trying to keep from opening the freezer if at all possible so I store a few boxes of crackers in my pantry for emergency meals.
Thanks again to my friend Julene, at Prepare Today who wrote a similar post back in October 2012.