Emergency Cooking Fuel We Need To Survive
Emergency cooking fuel is one of my favorite topics to talk about, just so you know. I have a small yard, so I am not able to store as much as someone with a large piece of property. If I had a lot of property I would have a large truckload of my favorite charcoal/coal delivered. ( I do not own a truck). I purchased several RED five gallon buckets with RED Gamma Lids to store my Oak Hardwood Lump Charcoal. The reason I chose to purchase this type is that I read about the chemicals in the barbecue charcoal you buy at the grocery stores or large carton stores. I am not a scientist, but I will give you some tips that I have researched.
Keep your charcoal briquettes without lighter fluid and oak lump charcoal in airtight containers, it will last indefinitely.
Hardwood Charcoal:
Low ash, burns hotter, burns faster and less evenly because you are burning blackened wood, usually oak, pecan, etc. The pieces are not formed by a machine to be the exact size. They are pieces of cut wood all different sizes and shapes. They look like pieces of blackened wood because they are wood.
Charcoal Briquettes:
It burns longer and more evenly because they are all pieces of uniformly made pieces of briquettes. Some manufacturers use chemicals, fillers and add to sawdust to make perfectly formed briquettes. Be sure and check the brand you are buying. Some briquettes are made with little or no chemicals. Some have several fillers and chemicals in them. These produce more ash than the hardwood charcoal. There are many disputes as to whether this ash is safe or not safe to add to your garden. I will not discuss that today.
Keep your charcoal briquettes without lighter fluid and oak lump charcoal in airtight containers, it will last indefinitely.
Emergency Cooking Fuel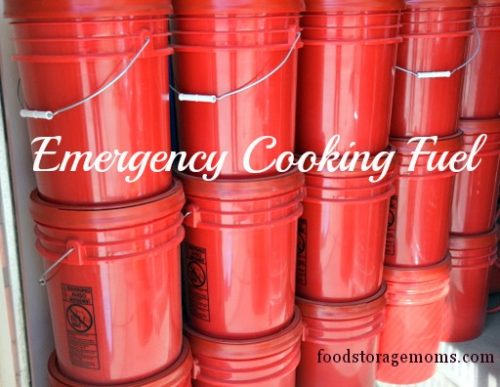 I suggest you do your own research on the type of charcoal if you decide to purchase some. Let me just say this, I will not purchase anything but Ozark Oak Hardwood Charcoal. I have read hardwood oak charcoal lasts forever. That works for me. I have enough emergency cooking fuel stored to cook one meal a day for a year. This is fine because I have propane and butane as well. Plus, I do not need a hot meal every day. I love peanut butter and jam sandwiches on my whole wheat bread.
I can use this fuel for my Volcano II stove and in the pit, I am going to build this summer in my backyard. I can also use it to cook with my Dutch ovens in my Dutch oven stand. Please remember this is an outside cooking fuel only.
I read on the Emergency Essentials website: we need approximately fifteen-20 pound bags of charcoal in order to cook one hot meal a day for one year. What is your favorite alternate fuel to use in emergencies?
Gamma Lids and buckets you can get at your local Walmart or big-box stores in the food storage section.