Easy To Make Homemade Three Bean Salad Recipe
It's that time of year we are planning camping trips, family reunions, and barbecues. This is an easy homemade three bean salad recipe you can make ahead of time and it's ready to serve ice cold. I don't know about you, but anything homemade always tastes better to me. Is your pantry full of all kinds of beans like mine?
I love just about every kind of bean known to man, they are so good for us!
Three Bean Salad:
Here's the deal with this salad, I like more than three beans so I just keep adding beans for color and texture. Now, not all of the cans will fit in the quart mason jar. No problem, I keep the extras in a container to add to the vinegar dressing the next day to get another meal or two out of it.
The thing with beans you can make all kinds of meals at the last minute. You can throw a can of rinsed beans into just about every salad and it gives it some protein. Do you love soup as much as I do? I love a hot steaming cup of bean soup in the winter as I watch the snowfall outside. Which by the way doesn't happen very often here in Southern Utah. But yes, I have a snow shovel just in case the snowflakes stay long enough to be shoveled.
Thank goodness we do not have to shovel very often. Now it's salad time in the summer, cold refreshing salads. This recipe is delicious as a side dish or a meal. I prefer the wide mouth quart jars: Ball 67000 Quart Wide Mouth Mason Jars, Silver Lids pack of 12
I've really tried to eat more healthy meals and not just rate quality based on flavor or sweetness. I could eat very little meat and be satisfied.  My husband loves meat and could have one meat product or another with almost every meal we eat. One thing I like about beans is the benefit of the protein found in most bean varieties. From my reading, I found that preparation of the beans is critical to eliminate the chance for tummy problems and to improve digestion and the absorption of the nutrients we need to stay healthy.
This salad was made with canned beans, but if you plan to prepare your own be sure to set aside the time necessary to soak, cook and drain the beans properly. Beans can provide a significant amount of the daily fiber we all need. Some other benefits from eating beans besides the protein are the nutrients like magnesium and potassium to be found. One final thing to remember and consider as you plan healthy and budget-minded meals is that beans are one food product that is fairly cheap to buy and prepare, something we all want to achieve our healthy meal goals.
Please let me know when you make your three bean salad what beans you use in your recipe. I would love to hear from you!
Three Bean Salad Recipe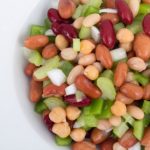 Three Bean Salad
Ingredients
Ingredients:

1

can garbanzo beans

drained

1

can kidney beans

drained

1

can green beans

drained

1

can red beans

drained

1

can navy beans

drained

1

small onion

chopped/diced

1

small green bell pepper

chopped/diced

½

cup

chopped/diced celery

Please note everyone calls this: Three Bean Salad

I use five varieties of beans
Instructions
1 can garbanzo beans, drained

Grab a quart mason jar and fill and shake the following ingredients;

¾ cup sugar

1 teaspoon salt

½ cup oil

½ cup vinegar (I prefer white vinegar

½ teaspoon pepper

½ teaspoon paprika

Mix all ingredients in the jar that will fit. Keep in the refrigerator and serve well chilled. I always have excess beans that I add to the vinegar solution the next day to get one more meal out of it.