Easy Frugal Cakes Made From Scratch
Keeping with my food storage theme this week I want to share some of my easy frugal cakes made from scratch. I still buy cake mixes, don't get me wrong, but there is something about some cakes that are so moist because you add pudding or sour cream to them. I also have some cakes that are totally from scratch. I am not a gourmet baker so I only use my bread flour or freshly ground whole wheat flour to make the cakes. I do not use cake flour, just so you know. So, let's get this party on frugal cakes going right now!
One thing I want to mention, in the olden days we never had expiration dates on the cake mixes, or on anything else for that matter. But there is a real issue with flour, it does go bad and could make you sick. The shelf-life for white flour is 12 months maximum unless you buy commercially processed flour in #10 cans. I have a few cases of white flour from Thrive Life. The shelf life on their website states the #10 cans are good for 5 years unopened and 2 years open. I would caution you on the 2 years open, but that's my own opinion. I believe it's only 8-12 months when opened.
Mold spores can grow in flour, this is why the cake mixes or brownie mixes or whatever goes rancid. Yes, flour goes bad. When in doubt throw it out. Remember every manufacturer has their own expiration dates, even bags of flour. Use your own good judgment when storing flour. Pull up a chair and decide which cake you want to make this weekend. I almost forgot, cake tip from my mom: bake your cakes and freeze them until the day you need them. Two weeks works great. Bring the cake out the day you want to frost it, place it on the platter you will serve it on. Cover with plastic wrap and let it thaw for a few hours. When it's ready to frost. This is what the professionals do to make their cakes extra moist. Love it!
Easy Frugal Cakes From Scratch:
Carrot Cake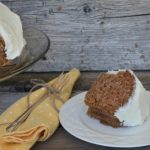 Carrot Cake
Ingredients
2

cups

flour

2

cups

sugar

2

tsp.

soda

2

tsp.

cinnamon

1

tsp.

salt

1

cup

oil

4

eggs

3

cups

shredded/grated carrots

1

tsp.

vanilla
Instructions
Preheat the oven to 350 degrees. Combine the flour, sugar, soda, seasonings, and oil. Add the rest of the ingredients and thoroughly mix together. Grease a bundt cake pan or two 9-inch cake pans. You can also make 24 cupcakes.
Recipe Notes
Baking times: Bundt cake: bake 45 minutes or until toothpick comes out clean
Two-9-inch cake pans: 30 minutes or until toothpick comes out clean
Cupcakes: bake approximately 20-30 minutes or until toothpick comes out clean
Utah-Texas Sheet Cake Recipe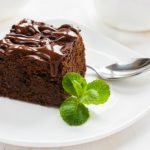 Texas Sheet Cake
Ingredients
2

cups

flour

2

cups

sugar

1

cup

(butter the original recipe calls for margarine)

1/4

cup

unsweetened cocoa

1

cup

water

1/2

cup

buttermilk

1

teaspoon

baking soda

2

eggs
Frosting
1

teaspoon

vanilla

1/2

cup

butter

5

tablespoons

buttermilk or regular milk

1/4

cup

unsweetened cocoa

3

cups

powdered sugar

1

teaspoon

vanilla

1

cup

chopped nuts optional
Instructions
Preheat the oven to 350 degrees. Grease the pan of choice below. Combine the flour and sugar in a bowl. Bring the butter, cocoa, and water to a boil. Turn the stove off. Add the buttermilk, soda, eggs, and vanilla to the pan with the boiling mixture. Use a hand mixer to combine the flour and sugar in the pan, blend until smooth. Pour into a greased pan.

Baking time: jelly roll/cookie sheet, 15-20 minutes

Baking time: 9-inch by 13-inch pan, 30-35 minutes
Frosting
Grab a medium saucepan and melt the butter, add the cocoa and the milk. Bring to a boil stirring constantly, add the powdered sugar, vanilla, and nuts. I make this frosting while the cake is baking and then spread it on the semi-cooled cake.
Linda's Chocolate Cake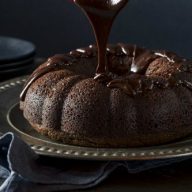 Chocolate Cake by Food Storage Moms
Ingredients
1

package chocolate cake mix (Duncan Hine's)

1

package INSTANT Chocolate pudding 5-5.9 ounces

1

cup

sour cream

1/2

cup

vegetable oil

1/2

cup

water

4

eggs

3/4

cup

mini chocolate chips or regular size chocolate chips
Instructions
Preheat oven to 350 degrees. I place everything but the chocolate chips into the mixer bowl. I blend until completely mixed, about 1-2 minutes. Fold in the chocolate chips. Grease a Bundt pan and scoop the mixture into the Bundt pan. Bake for 50 minutes or until a toothpick comes out clean. I wait for about 5-10 minutes before inverting the baked cake onto a parchment paper lined dinner plate. I freeze the cake overnight or until I need it for a party. The day of the party I remove the frozen cake and place it on the platter I will use to serve it. Remove the parchment paper and cover the cake with plastic wrap until partially thawed and ready to frost and serve.

Frost with cream cheese frosting or whipped cream and sprinkle with crushed candy canes or chocolate ganache.
Linda's Cream Cheese Frosting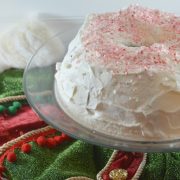 Cream Cheese Frosting
Servings
:
36
cookies or Bundt Cake
Ingredients
1/2 cup butter softened

1-eight ounce cream cheese softened

3 to 3-1/2 cups powdered sugar

1-2 teaspoons vanilla
Instructions
Cream the butter with the cream cheese and slowly add the powdered sugar to the thickness you desire

Add the vanilla until blended.
Recipe Notes
Add 3-4 tablespoons unsweetened cocoa to make chocolate frosting.
My favorite hand mixer: KitchenAid KHM512ER 5-Speed Ultra Power Hand Mixer, Empire Red
I can't wait to make one of these easy frugal cakes and have some friends over to enjoy it! What is your favorite cake you like to make? I used to buy famous bundt cakes, not anymore. Mine is just as good or better and a whole lot cheaper! Keep your pantry filled with some of the ingredients and cream cheese in the refrigerator and you can make most of these cakes at the last minute. Enjoy life with a piece of cake. Thanks for stopping by, Linda