4 Dinner Ideas You Can Make After Any Disaster
Are you sometimes asked this question, what's for dinner? Well, I have some dinner ideas for after a disaster happens to show you today….literally.I will admit I could eat Mexican food every day. Well, and I could eat salsa on everything….except pancakes. I love love, love salsa. I have a friend, Sandee that gives me her homemade salsa every year. Two pints of "gold" I call it, and I savor every bite of that yummy spicy salsa. Next year NOW that I have a gas stove we will be canning some at my house…I can't wait! I will share the recipe when I get my hands on it!
This is one of my favorite dinner ideas because of the salsa, tacos, beans, black olives and meat for my husband (cans of chicken or roast beef) ready to spoon into a taco shell. Add some canned fruit like Mandarin oranges or canned peaches…dinner is ready if you had to you can eat this dinner cold. Hot would be better.  A butane stove with some extra cans of butane stored would be an awesome Christmas gift. Just saying….
Dinner Ideas-Number One:
Dinner Ideas-Number Two:
These Augason Farms soup bases are great to have in your food storage stash. They are pretty inexpensive  (approximately $12.00) at your local Walmart. All you do is add water and stir in some dehydrated vegetables and some canned chicken…dinner is ready in no time. These two soup bases are great with just about any freeze dried, dehydrated or a can of vegetables you have in the pantry. Heat it up on your gas stove if you still have gas available in your home. Or again, get a butane stove. They work great indoors. If you have a Dutch Oven and some charcoal cook your soup outside.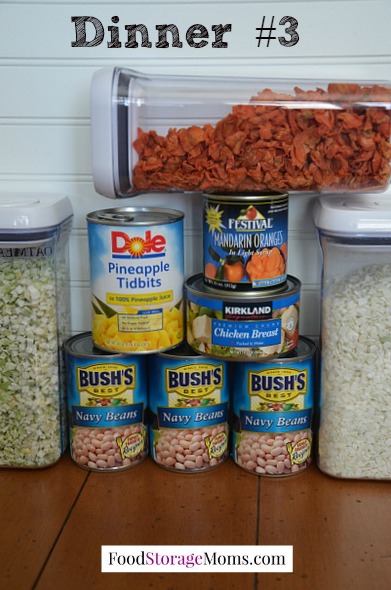 Dinner Ideas-Number Three:
Here again, the OXO plastic containers have my freeze-dried onions, carrots, and celery I use all the time. I like the smaller packages they sell online. I can make bean soup with these veggies added and some canned chicken. Gather up some canned fruit to make a fruit medley in a bowl. Woohoo, another dinner!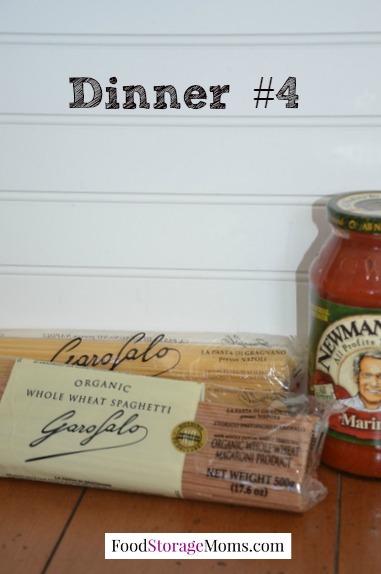 Dinner Ideas-Number Four:
This is a really easy dinner…boil some spaghetti and add some freeze dried meat (or for me no meat) and smother with spaghetti sauce. I keep a few jars on hand as well as tomato flakes and tomato paste to make my own sauce. If I need to cook dinner for a crowd after a disaster I can guarantee you I can cook a mean spaghetti for dozens. I have frozen meatballs in the freezer too! My husband would want meatballs…yep, I can visualize the spaghetti meatballs rolling around in the sauce right now.
I hope these three emergency dinner ideas or meals inspire you to think of your own emergency meals to throw together. Just start with baby steps…one meal at a time. Please remember we need water…more water and some more water…I had the Breakfast Meals and the Lunch Meals posted if you missed those before today
P.S. Don't forget all the spices you can add to spice up your dinners!