Did You Say I Can Make Instant Beans?
Did you say I can make instant beans? I am asked that question a lot, even more so now that the price of meat has skyrocketed. We all need protein every day and beans are a great substitute. Vegetarians love these because they are 100% pinto beans. My kids grew up on bean burritos once a week. Those pinto beans were soaked overnight, drained and then boiled with fresh water most of the day. Now, we are lucky enough to buy several different kinds of beans in cans, refried beans in a can and for the last few years we can buy instant beans in just about every variety.
One thing about these beans is that they take up less space in the pantry or food storage area because they do not have any water in them. That being said, we do need to add water to them to make them edible for most meals. The Thrive Life can says to bring 6 cups of water to a boil and add 2 cups of instant pinto beans. You then cover the pan and simmer the beans for 15-20 minutes. I personally like to use less water because I like my pinto beans a little thicker.
Compare the Instant Beans & Regular Pinto Beans: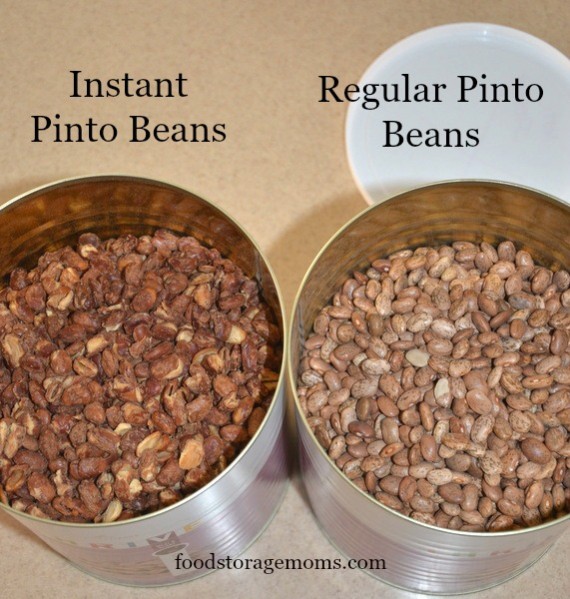 I have read articles about making your own instant beans, but I prefer to buy mine commercially packed because of the longer shelf life. These have a shelf life of 30 years unopened and one year if opened. Keep in mind the temperatures must be around 70 degrees, give or take, to ensure that time table. If the temperatures are higher the shelf life goes down big time. In other words, not in the garage if it's hot like here in Southern Utah.
Here is my Thrive Life  website so if you decide to purchase a can or two I do make a fews cents, and I thank you for that.  Thrive Life Instant Pinto Beans with FoodStorageMoms. You might want to check out the other products to start your food storage stash. You can even set up a monthly delivery program where you set up an automatic "Q" t0 schedule some items you want. It can be different every month depending on what you want to to store. It is really a slick approach to staying on top of things that you might otherwise forget to order.  I use it and love it. Thrive Life Q through FoodStorageMoms. Please remember to store different kinds of foods like regular canned beans, dry bagged beans and some of these instant pinto beans. Thrive Life sells instant black beans as well. I love using my pressure cooker to make beans, so I buy the regular beans as well. I love making my own tortillas and spreading some of these beans on them. Add a little grated cheese topped off with some homemade salsa and you have a delicious meal!
Don't forget your favorite spices to stock in the pantry. I would add chili powder, salt and garlic to these pinto beans for the flavor I love. I appreciate that I can add the amount of salt and spices that I want to these instant pinto beans. Yay, for food storage! Thanks for stopping by today and learning how to be prepared for the unexpected!