How To Dehydrate Peas For Food Storage
Do you know how to dehydrate peas for food storage? Here's the deal about peas, for me, anyway. If I am going to go out and pick peas more than likely I will eat them raw right out of the shells. Oh my goodness, can you just picture picking those fresh peas in your mind right now? Well, I posted a question on my Food Storage Moms Facebook page asking what foods people had dehydrated before.
I remember seeing something on Pinterest about buying frozen peas and dehydrating them. Well, someone mentioned she likes to find veggies on sale and then dehydrate them! She found an awesome sale and started up her dehydrator! Oh, how I loved to hear that kind of thing….no shelling of peas….no washing….just place on the dehydrator racks and turn on the dehydrator. LOVE IT!
One of the reasons I wanted to experiment with dehydrating peas is the fact that if we were to lose power I want to be able to dehydrate as much as possible from my freezer. I can always dehydrate them outside in the sunshine covered with netting.  Have you tried dehydrating pineapple? That one is my favorite!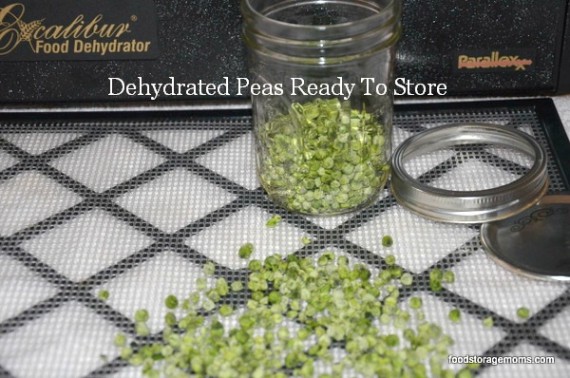 Here the dehydrated peas are ready to store and use in soups, stews or even a side dish. No freezer space used..no work to dehydrate them.
How To Dehydrate Peas
Ingredients:
Frozen Peas (uncooked) or freshly picked and shelled peas. You can blanch if desired. Use the tender baby pea varieties, if possible. They are more tender and sweeter than the larger peas.
Instructions:
Place the peas evenly on the dehydrator racks. I used an Excalibur Dehydrator and set the temperature at 125 degrees. Be sure and check the temperature for your own brand of a dehydrator for peas. Remember the time it takes to dehydrate will always depend on the humidity of the room where you are drying them.The peas took three hours today.
PRINTABLE recipe:  Recipe by Food Storage Moms
Please remember these dehydrated peas would be for short term food storage only. I do not use oxygen absorbers. Thanks again for being prepared for the unexpected.