How To Cook Quinoa-It's Super Easy And Quick To Make
The best way to cook Quinoa is in a pressure cooker, rice cooker or saucepan. I have to be honest with you when I first heard the word, Quinoa….I said, "What is Quinoa?" (pronounced 'keen-wah') My friend Kent, actually my husband's longtime friend, told me about this wonderful nutritious seed that is used as a grain when cooking.
There are a few different types of quinoa.
What Is Quinoa:
1. Quinoa is a seed not a grain.
2. It contains 9 of the essential amino acids our bodies need-it's a complete protein.
3. When you cook it, it has this little curly string (it's a pale yellow color) that is actually the seed's germ-it comes out after it's cooked and is very nutritious. It makes a crunchy texture, super healthy.
4. It grows from a plant in the Goosefoot family which also produces Swiss chard and spinach.
5. It's gluten-free.
6. Great for vegetarians.
7. It has long been a staple in the Andes in Peru and Bolivia.
8. You can mill into flour-check with your mill manufacturer.
9. You can substitute it for pasta or rice.
10. One cup uncooked equals 625 calories.
11. Good source of iron, magnesium and Vitamin E.
12. One cup uncooked has 957 mg. of potassium.
13. It's high in unsaturated fats and lower in carbohydrates than most grains.
Shelf Life Of Quinoa:
First look at the expiration dates on the packages you have purchased. Most quinoa, if stored properly in airtight containers on your pantry shelf, will last 2-3 years. It's hard to tell if Quinoa has gone bad because it might not have a "bad" smell. When it doubt, throw it out. I never buy more than I can use in 2-3 years. You can cook your quinoa and it freezes very well. Grab a bag from the freezer and add some chopped fruits, veggies and spices. You can top it off with Balsamic vinegars and flavored olive oil.
How To Cook Quinoa:
You prepare it like regular rice. The one difference is you soak it for five minutes, rinse and drain. Then boil it. You can also use a pressure cooker.
Here are the ingredients needed:
2 cups organic white Quinoa
3 cups water
1 Tablespoon Better Than Bouillon Chicken Base (optional)
salt and pepper to taste
Red, White & Black Quinoa:
1. White-has the mildest flavor of all of them. I use it in place of rice, and I even make a few salads with it.
2. Red-has a stronger flavor, takes a little longer to cook, but is really "crunchy".
3. Black-even stronger flavor and is "crunchy" as well.
You can mix the different quinoas to make a colorful yummy dish.
The seed contains the nine essential amino acids our body needs. This makes it a great product for vegetarians because of its high protein content. It is also gluten free. I absolutely LOVE it! I now buy all the different colors of quinoa.
My Secret Ingredient When I Cook Quinoa:
Here is my secret ingredient I use for almost all my soups, stews, rice and quinoa. You can buy large jars at Costco or local grocery stores. LOVE it! You can also buy it here on Amazon: ChiBetter Than Bouillon Chicken Base 8oz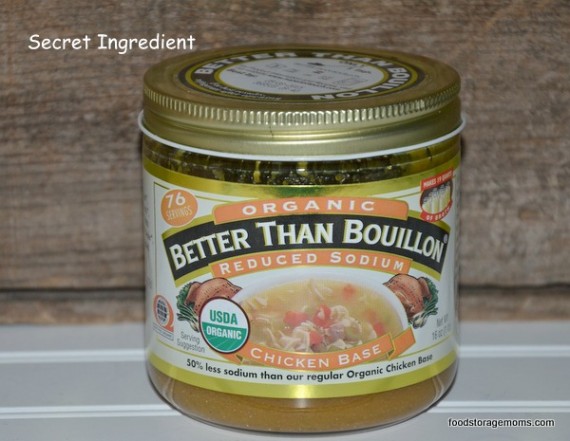 I buy the Quinoa in bulk and seal it in quart jars with my FoodSaver. **Please note I store my unused open quart of Quinoa in the refrigerator. This is the quinoa I buy: Bob's Red Mill Organic Grain Quinoa, 26 oz
Pressure Cooker Instructions:
Ingredients
2 cups organic white Quinoa
3 cups water
1 Tablespoon Better Than Bouillon Chicken Base (optional)
salt and pepper to taste
Instructions
Soak the Quinoa in water for 5 minutes. Rinse and drain in a fine screen colander. Place the Quinoa in the inner pan in the pressure cooker. I set it on rice which is 6 minutes and let it release naturally which means it continues to cook a little more.