How To Cook Kamut Grain One Of The Healthiest Grains Ever
Do you know how to cook Kamut Grain? Do you even know what Kamut is? Kamut is a big, thin oval shaped buttery grain. It's an ancient wheat that was re-introduced to the modern market by a Montana farmer by the name of Bob Quinn. The name Kamut has actually been trademarked to assure that every bit is grown organically. I was introduced to Kamut by Chef Brad at a class he taught right here in Southern Utah at The Kitchen Corner.
Breaking NEWS here: I was just contacted by Kamut International Ltd. They appreciate the tutorial showing how to pressure cook Kamut. Please check out this website: Healthy Grain
Here's the deal…you can boil it in a big pot of water and it will take about an hour to cook. It will take longer to cook than rice would take. It has a chewy texture and is fabulous in salads. You can also buy Kamut Flakes to make your own granola or pancakes.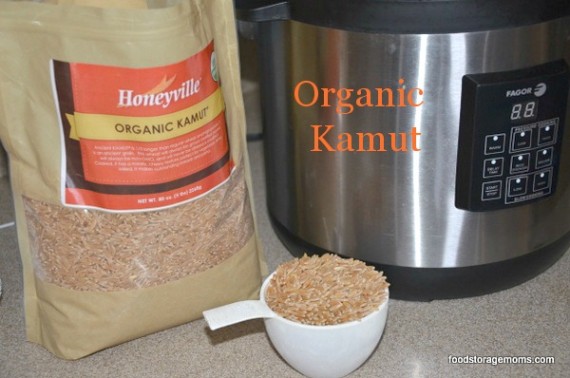 I actually cooked this Kamut in a pressure cooker. Yes, I am learning to cook so many grains since taking those three classes from Chef Brad. Grains are such a great food storage item. The grains can really stretch a food budget as well. I did a post about how to use a pressure cooker, I have a printable for you below. You will use the same directions but just cook a little longer. I hope you try to cook Kamut grain, it's chewy and yummy!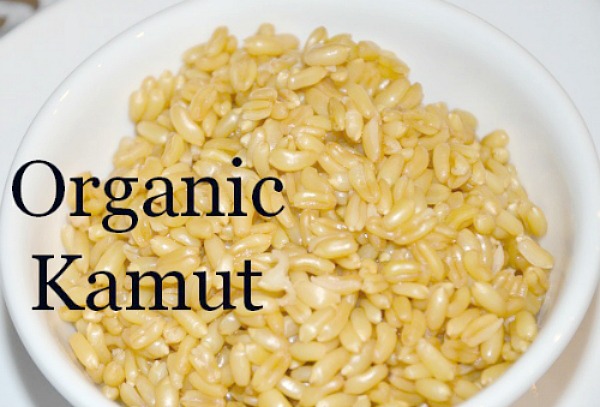 How to Cook Kamut Grain:
1. Kamut is 1 cup Kamut to 2 cups water. Place in the pressure cooker. Put the lid on the pressure cooker and lock in place. Move the button on top to PRESSURE
2. Push the HIGH button and push until you see 30 (minutes)
3. Push Start
4. When the "buzzer" goes off wait for about 2-3 minutes and cover the PRESSURE button with a wash cloth to keep from getting burned while releasing the steam. Drain the water, if any, and it is ready to serve or store in the refrigerator until ready to use.
This Organic Kamut is perfect as a side dish or fabulous mixed with other grains and drizzled with your favorite Balsamic Vinegar and Fused Flavored Olive Oil.
Here is an email I received from the company that produces Kamut (Trademarked), (I was honored by the way) :
Thanks for sharing information about KAMUT® Brand khorasan wheat and how to cook it in a pressure cooker.
KAMUT® Brand khorasan is an organic, non-genetically modified, ancient wheat variety similar to durum. In 1990, "KAMUT" was registered as a trademark by the Quinn family in order to support organic farming and preserve the ancient khorasan wheat variety. Under the KAMUT® Brand name, khorasan wheat must always be grown organically, never be hybridized or modified, and contain high levels of purity and nutrition. Today, Kamut International owns and has registered the KAMUT® trademark in over 40 countries, and is responsible for protection and marketing of all KAMUT® Brand khorasan wheat throughout the world.
KAMUT® wheat is grown on dryland certified organic farms primarily in Montana, Alberta, and Saskatchewan. The grain is prized by consumers who appreciate the grain for its high energy nutrition, easy digestibility, nutty/buttery taste, and firm texture. KAMUT® khorasan wheat is higher in protein, selenium, amino acids, and Vitamin E than most modern wheat and contains essential minerals such as magnesium and zinc. It is used as whole grain berries, whole grain flour, white flour, flakes, and puffs to make a variety of products. Some specific benefits of using KAMUT® khorasan are receiving more nutrients, protein, and taste than most commonly consumed whole wheat – plus supporting organic agriculture and helping to preserve an ancient grain.
KAMUT® khorasan is a variety of wheat thus has gluten content. A lot of people who are not able to tolerate wheat tell us that they are able to tolerate KAMUT® khorasan wheat. KI has ongoing research to understand why – it is our theory that because KAMUT® khorasan is an ancient grain, it retains the qualities that made it desirable so many years ago.
Please visit the Kamut International website at https://www.kamut.com to learn more. And follow us on Facebook and Twitter to keep up with the latest news. I welcome questions and inquiries, including those about the KAMUT® trademark name and using it correctly.
My kind regards – Jamie
Jamie Ryan Lockman | Regional Director – North America
Kamut International, Ltd.
P.O. Box 4903 | Missoula, MT 59806 | USA