The Best Chocolate Mint Brownie Cookies

Today it's all about how to make the best chocolate mint brownie cookies. Yep, I'm all for chocolate everything so I have to share this recipe today. This is my mother in law's recipe, with a few changes. We all do changes or modifications to recipes, right? This is a very moist and chewy chocolate cookie. It's more like a brownie but looks like a cookie.
The bonus is the brownie cookie stays soft for days if you store them in an airtight container. Man, sometimes I wish I had this old HUGE Tupperware cake container turned upside that my mother in law used to store her cookies for years. It seems like she used waxed paper between the layers of cookies she would make and store in the container.
Chocolate Mint Brownie Cookies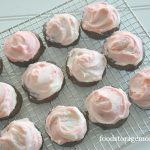 Chocolate Mint Brownie Cookies
Ingredients
1/2

cup

softened butter

1

cup

sugar

1

egg

1/2

cup

milk

1

teaspoon

vanilla

1/2

teaspoon

baking soda

1/2

teaspoon

sea salt

1/2

cup

cocoa, unsweetened natural cocoa

2

cups

flour
Instructions
Cream all the ingredients, as in dump/cream all the ingredients in your mixer bowl and then add the flour. Blend until thoroughly mixed. I used my 1/8 cup cookie scoop.  Preheat your oven to 350 degrees and bake on a greased cookie sheet for 8-12 minutes, depending on the size of cookie scoop you use. Of course, spoons work just as well.
I used spoons growing up! I taught classes at a kitchen store and learned about cookie scoops. Life is good with cookie scoops, just saying.
I use this frosting recipe for cookies, doughnuts, cakes, and brownies.
Cream Cheese Frosting (Peppermint)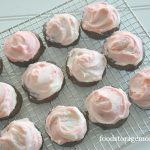 Cream Cheese Frosting (Peppermint)
Ingredients
1

cube

1/2 cup softened butter

1-8

ounce

softened cream cheese

3-3-1/2

cups

powdered sugar

1

teaspoon

vanilla or a few drops of peppermint essential oils

Food coloring if desired
Instructions
Combine all of the ingredients and use a hand mixer until smooth and creamy.
I love this frosting because I can make it ahead of time and freeze it. I thaw it in the refrigerator and it will be ready when I need it the next day. With the delicious cookies shown above, covered with this wonderful frosting you have the best of both worlds. There is something special about making your own cookies for the family to enjoy, particularly if most of the ingredients come right from your pantry. My mom worked when I was young so she wasn't there to serve homemade cookies to us right after school. My husband was lucky, his mom seemed to have a treat ready for the kids to eat after school almost every day. His mom was fun, she liked eating the cookies as much as her children did. There was something sweet to eat in their kitchen most days. Take some time and enjoy making this recipe WITH your kids.
OXO Good Grips Medium Cookie Scoop