Easy To Make Buttery Chocolate Chip Bars Recipe

A few weeks ago I attended a computer training class with the youth in our neighborhood. Someone brought these easy to make chocolate chip bars. Can you picture how a plate is being passed around the room to share a treat for the night? As the plate went around the room all of a sudden people started asking for seconds and thirds. First of all, anything that is homemade is obviously awesome! Well, this recipe is a moist chewy cookie bar. Okay, I had to have this recipe….one of the instructors asked if he could take some cookies home to his wife. He picked up six of these and put them in his pocket (no napkin). You have to know this sweet gentleman. I am sure he and his wife do not make homemade goodies at their home. I think he is in his late 70's. It was a precious moment to see…

MY LATEST VIDEOS
Here is the batter that is basically cookie dough. The thing I like about this recipe is the fact that the ingredients are in my pantry. I don't usually store instant pudding, except for the chocolate cake I make. I will for sure start buying a few small boxes of instant pudding in the future. I love having a recipe I can make from scratch and not have to go to the store if I need to make a dessert at the last minute. Mental note….small boxes of instant pudding for the pantry.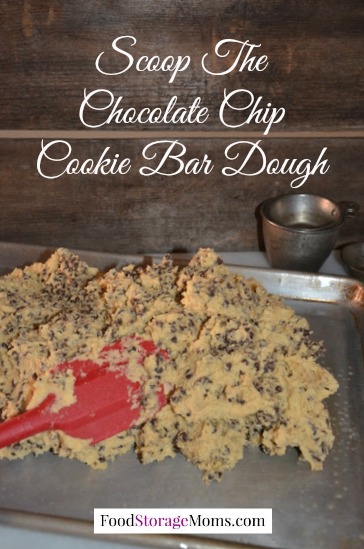 Thick Chocolate Chip Bars Dough
This is a little tricky because the dough is really thick. You can use your hands to spread it out, or a spatula. I used my hands because it is a very stiff dough. I just pushed the dough into corners and smoothed it out flat. Easy peasy.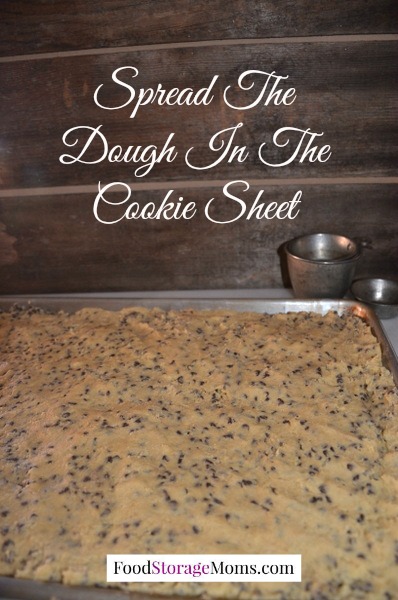 Recipe For A Crowd-Chocolate Chip Bars
This recipe is like making cookies, but it's on a cookie sheet. I don't have to stand, scoop and bake several batches. They bake for about 20-25 minutes, but it will depend on your oven. They should just barely brown around the edges. I cut them into two-inch squares and froze several of them. Do you love the smell of cookies, or cookie bars, in this case, baking in your oven? I know I do!
Here's another fun recipe from my friend, Mary Ellen at That's My Home: 1000 Layer Chocolate Chip Cookies
Easy To Make Chocolate Chip Bars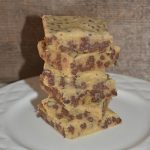 Easy To Make Chocolate Chip Bars
Ingredients
Ingredients:

2

cups

butter

softened

1/2

cup

white sugar

1-1/2

cups

brown sugar

2

teaspoons

vanilla

4

eggs

beaten

2

packages

3.4-ounces each instant vanilla pudding

4-1/2

cups

flour

3

cups

chocolate chips
Instructions
Instructions:

Preheat oven to 375 degrees

Cream the butter, white sugar, brown sugar, vanilla, and eggs. Add the dry vanilla pudding and flour. Mix thoroughly. Fold in the chocolate chips. Spread the dough onto the cookie sheet. Bake @375 degrees on a greased cookie sheet for 25-30 minutes or until golden brown. Let cool and cut into 2-inch squares.