How To Make The Very Best Cherry Flan Cake In The World
This is really easy to make cherry flan cake recipe everyone loves. It looks beautiful on a glass platter, and who doesn't love a little-whipped cream, right? This cherry flan cake recipe tastes a lot like a shortbread cookie, but fluffy and moist. The reason I like this recipe is that I have all of the ingredients in my pantry but the whipped cream. My heritage is from Norway and as a child, I grew up thinking this was a Norwegian dessert. I don't know if I just assumed that because my mom made it all the time and the family loved it.
I love to understand where different foods originated. It helps me to appreciate ingredients, flavors, and different recipe variations. The story goes that flan actually got its start in ancient Rome. The Romans domesticated chickens and put their freshly gathered eggs to use. They mixed the eggs with cream and created a flavorful custard recipe. Although the Roman Empire fell to foreign invaders many of their cultural foods were incorporated into other cultures over the centuries. This cake has taken many forms and flavors over the years.
The people of Spain made the flan into a more sweet custard by adding caramelized sugar. Others changed the flavor to local tastes by adding fruits and nuts. In England influenced the development of flan into a pastry crust. The shell they developed had an open top that they filled with their favorite fruits and nuts. I love how flan has evolved into a fun and tasty type of cake crust that I can fill with MY favorite goodies and thus create a delicious dessert enjoyed by so many family and friends. Try the recipe below and you'll fall in love with flan like I did many years ago.
Flan Cake Ingredients:
Butter, sugar, flour, baking powder, eggs for the cake. Add any fresh fruit, custard, pudding or my favorite cherry pie filling. My husband loves fresh strawberries or blueberries too! Here is the flan pan I use.
Flan Cake Batter:
It's a thick and sticky dough you spread evenly on the greased flan pan. Bake as directed and fill the cake with your favorite topping. Let me know what you put on your cake. I love new ideas!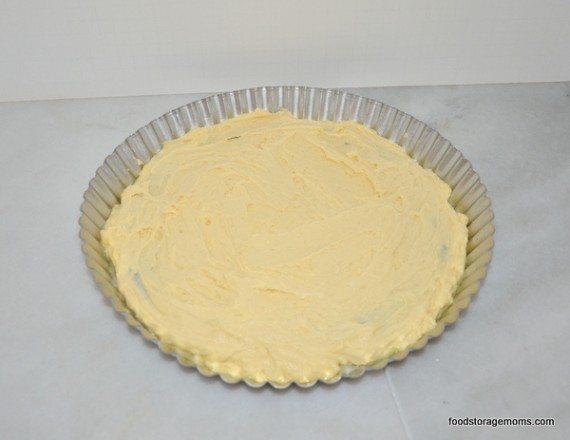 Easy To Make Cherry Flan Cake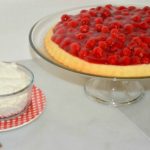 Cherry Flan Cake
Ingredients
½

cup

butter or one cube

½

cup

sugar

¾

cups

flour

1

teaspoon

baking powder

2

eggs

2- 21-

ounce

cans of pie filling

Whipping Cream
Instructions
Preheat oven to 375 degrees. Place all of the ingredients into a medium-size mixing bowl. Use a hand mixer to blend the ingredients. Grease the pan and spread the mixture as evenly as possible. The dough/mixture is quite sticky. Bake at 375 for 15 minutes. Wait ten minutes and turn the cake onto a large plate or cake platter. Fill the cherry flan cake with two cans of fruit pie filling or fresh fruit. Garnish with whipped cream.
Recipe Notes
This cherry flan cake is not a pie. It is similar to a shortbread cake texture. It is great for layering with puddings and pie fillings. Fresh fruit works really well too!