The Best Fresh Broccoli Salad Recipe Ever
This is my favorite fresh broccoli salad, I think you will really like. You can make a big bowl and take it to a family reunion or neighborhood party. Or cut the recipe in half and enjoy it as a family. I LOVE fresh broccoli salads. This salad has bacon, mozzarella or swiss cheese and a few other ingredients. You can add different things to it and change it to fit your taste or just to use other ingredients you have in your pantry that it's time to put to use.
If you grow broccoli in your garden this recipe would be great to have for any meal. Of course, any salad that has bacon (or most any other meat) I will for sure love it! Yes, I have a few cans of Yoder bacon in my emergency food stash for a special meal. It is way too expensive to buy for everyday use, but then in an emergency, I will break out one of those cans. For this recipe, I just used pre-cooked bacon from Costco I had stashed in the freezer. I think with the price of bacon these days I might not be buying bacon for a very long time.
We had our daughter and family in town from Flagstaff for nearly a week. What a great time! One of the challenges with teenage girls is trying to plan meals they'd all like, besides pizza, bagels, etc. We decided to try this broccoli salad and it was a hit!  Keep in mind that this is one of those salads that seems to get better with age. The kids liked it better the second day, and we'd made a large enough salad that there was plenty available the second time around. I particularly like this salad because it's a good way to get the younger ones to eat vegetables.
I know, it does have dressing and sugar ingredients, but since the broccoli is the main food item I feel better about it. Don't be afraid to be creative and add different kinds of nuts, cheese, more or fewer onions. I know other cooks who add fruits like grapes to add a totally different look and taste. Give it a try, you won't be disappointed.
I hope you enjoy this fresh broccoli salad recipe as much as my family does! Happy summer! Here are some of my other favorite salads: Salads & Dressings
Fresh Broccoli Salad Recipe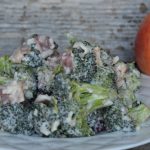 Fresh Broccoli Salad Recipe
Ingredients
3-4

whole heads of fresh broccoli

break into small flowerets

1

cup

chopped purple onion

2

cups

grated swiss cheese or mozzarella

1-2

cups

chopped cooked and crumbled bacon

Dressing:

2

cups

mayonnaise or miracle whip

1

cup

sugar

1

tablespoon

red wine vinegar
Instructions
Place all of the ingredients in a large bowl (not the dressing ingredients). Mix all the dressing ingredients in a smaller bowl and pour over the salad ingredients. Serve cold. Optional add-ons: craisins, chopped walnuts, chopped pecans, or raisins.