The Best Oatmeal Cookie Recipe In The World
I have the best oatmeal cookie recipe in the world because this recipe has been handed down for four generations in my family. My great-grandmother Ellen Langager was Norwegian, although I don't know what percent. These cookies are moist, chewy, and fabulous! My mom was a single mother with three daughters and living with her parents. My great-grandmother Ellen was a very sweet lady and we called Danny. When Danny spoke she would say "yam" for jam and "yelly" for jelly. Those were the most common loveable words she would say that always made me smile.
Related Topic: The Best Peanut Butter Bar Recipe You Will Love
She made the best lefse slathered with butter and brown sugar. Lefse is a traditional Norwegian flatbread. It's made with leftover mashed potatoes, flour, butter (we grew up with lard) with a little milk or cream. You mix it all together and roll it out a bit like a tortilla and cook them on a griddle. I will have to share that recipe with you very soon. I had to share those tidbits about my great-grandmother because you now know a little history behind this recipe and why I feel so strongly about this delicious cookie.
Oatmeal Cookie Recipe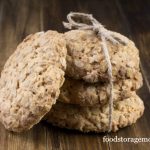 Oatmeal Cookie Recipe
Ingredients
1

cup

brown sugar

1

cup

white sugar

1

cup

butter

original recipe said shortening **Trick here, for fluffier cookies, trade out one cup butter with 1/2 butter AND 1/2 cup cream cheese (one 8-ounce package)

2

eggs

1-1/2

cups

flour

3

cups

oatmeal

I use the old fashioned uncooked style

1

teaspoon

baking soda

1

teaspoon

vanilla
Instructions
Cream the sugars, butter, and eggs until smooth and fluffy. Add the rest of the ingredients and mix with a mixer or by hand with a wooden spoon, if you like to use your arm muscles. Now here is an interesting note, my great-grandmother would make this recipe the night before and form the dough into a log and cover it with plastic wrap and place it in the refrigerator. The next morning, you remove the plastic wrap, slice and bake the cookies on a greased cookie sheet. I use my 1/8 cup scoop to bake the batter without putting them in the refrigerator. You can make these either way. Bake them at 375 degrees for 8-9 minutes if you like a chewy cookie, or 10-11 minutes if you like them crispier.
Here's the cookie scoop I use: OXO Good Grips Medium Cooke Scoop
 and here's my cookie sheet: Nordic Ware Natural Aluminum Commercial Baker's Half Sheet
You can also make this batch in a 9-inch by a 13-inch greased pan to make oatmeal bars by pressing the batter down into the pan. Bake at 375 degrees for 25-30 minutes or until golden brown. You would not have to refrigerate this batch for bars.
Oatmeal Cookie Variations:
Here are some great ingredients you can add:
1 cup chocolate chips
1 cup butterscotch chips
1 cups peanut butter chips
1 cup raisins
1 cup chopped nut (my favorite are pecans)
1 cup craisins
PRINTABLE recipes: Recipes by Food Storage Moms
I hope you enjoy making this oatmeal cookie recipe today, tomorrow or next month! Can you smell the cookies baking now? Do you love making cookies as much as I do? Thanks for stopping by today. May God bless you for being prepared for the unexpected.
Preparedness items to think about:
Don't forget your college students in the family. These are great gifts for them to set and forget in their closets but are ready for any disaster or emergency.