How To Make The Best Apple Fritters At Home
Would you like to learn how to make the best apple fritters at home today? My brother-in-law, Ron sent me a text about Chef Bryan on our local TV station in Salt Lake City, Utah making apple fritters. Of course, I was on it like a flash! Here in Southern Utah, we do not have a really good donut shop. But if we did I would always want an apple fritter. We do have one or two grocery stores that make apple fritters here in St. George, but I wanted to learn how to make them myself. When I watched his TV clip, I thought to myself I can make those. And you can too!
Here's the deal, I used to make homemade potato spud-nuts, also known as donuts for over 20 years on Halloween night. Then my girls got married and moved out on their own. The process is so fun, but your house literally smells like a grease pit from the deep frying. After they moved out I could no longer make them myself so I had to let go of that tradition. But I am going to share my recipe with you today because anyone can make donuts and apple fritters. The cool thing is typically we have all of the ingredients in our pantry to make them.
How To Make Apple Fritters:
Linda's Spudnut Recipe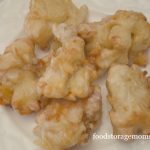 Linda's Spudnut Recipe
Ingredients
4

teaspoons

SAF yeast

1/2

cup

warm water

4

cups

scalded milk

cool slightly

1

cup

butter

softened

5

eggs

well beaten

1

cup

sugar

2

cups

mashed potatoes

no butter or milk added

12-13

cups

flour

enough to make a soft dough

2

teaspoons

nutmeg
Instructions
I use my Bosch bread mixer, although you could mix these by hand. I combine everything but the flour all at once in the bowl. I slightly mix the ingredients and slowly add the flour. Keep the dough soft which means it will not pull away from the sides of the bowl like bread dough. Cover the dough with some greased plastic wrap. Let rise until double the size. Punch down the dough and roll out on a floured countertop about 1/2 inch thick. Let rise again until double the original size. Once they are double in size they are ready to fry in oil. I do not have a special deep fryer. I use an electric skillet or a cast-iron skillet with hot vegetable oil about 2 inches deep.
The Best Apple Fritters
I use my recipe shown above, but I cut in some canned apple pie filling (you decide how many apples you want in your fritters).  I sprinkle cinnamon over the dough. Here is a YouTube for you: Apple Fritters With Apple Pie Filling. I put about 1/2 cup of dough with the apple pie filling in the hot oil to fry them. I did not want to make HUGE apple fritters.
Now here is a YouTube for you: Frying The Apple Fritters You fry them in oil until they are golden brown on one side and then flip them over to cook the other side. I place them on a rack to let the excess grease drip off the fritters and then I quickly dip them into the glaze.
Apple Fritter Glaze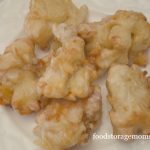 Apple Fritter Glaze
Ingredients
This is a slightly runny frosting and that's why we call it a glaze. You glaze your donuts or apple fritters.

1/2

cup

butter melted

2

cups

powdered sugar

1

teaspoon

vanilla

1/4

cup

hot water
Instructions
Combine all the ingredients above and stir until smooth. You dip each fritter on both sides in the glaze and let them drain on a rack. The excess glaze with drip off.
Please let me know if you try making your own donuts or your best apple fritters, I would love to hear!