How To Make A Banner For Any Holiday Or Birthday
Have you seen a birthday banner? A few years ago,  I attended the SNAP Conference located at Thanksgiving Point in Lehi, Utah. I learned so many things and made some cherished friendships there! Unless you have attended something like that it is hard to explain how a ton of bloggers get together and share ideas, talents, and love is everywhere in the meetings! Months later we are still talking via the phone, social media, emails and blogs.
It was an experience I will never forget and be forever grateful for the people I met. I must say I had to have been the oldest one there…..but it didn't matter. We had breakfast, lunch, and dinners together. The group even puts together a makeshift store to mingle, shop and do crafts together. Well, my friend purchased this darling banner made by someone there. Well, of course NOW I had to make some of those…….and I never make just one of anything….
Today I am sharing how you can make some banners yourself:
You will cut triangles out of fabric, cut out letters for the "saying", use bias tape and thread. You will need white fabric for the lettering. You will also need some double sided fusible iron-on web sheets.  You can use Rick Rack or trim of choice. I made my triangles 10 inches wide and 9-1/2 inches towards the point at the bottom on each side. You can really make any size that fits your space where you are going to hang it.
 Here is the first step, cutting the triangles. I layered two so I could "flip them over" if I needed a different color.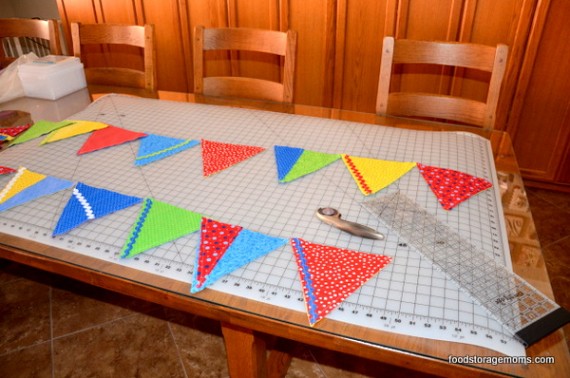 After I cut the triangles I sewed only the sides and then I added some of the scraps of the fabric onto the triangles. I also added contrasting Jumbo Rick Rack on some of the triangles. I used a cutting board and rotary cutter. Yes, I have a left-handed rotary cutter! Love it!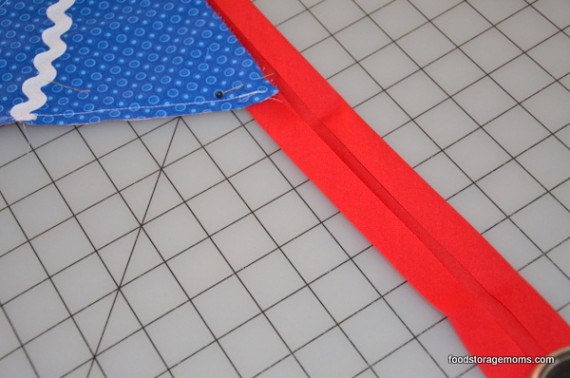 Here I attached the triangles butting the edges together on the open bias tape.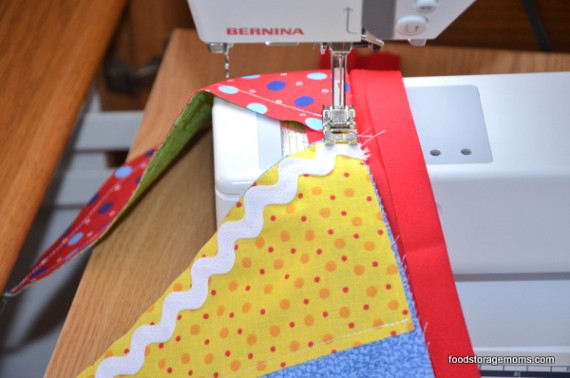 Here I continue sewing the triangles on the open bias tape. I used one whole package and had to add an additional 24 inches to complete the Happy Birthday Banner.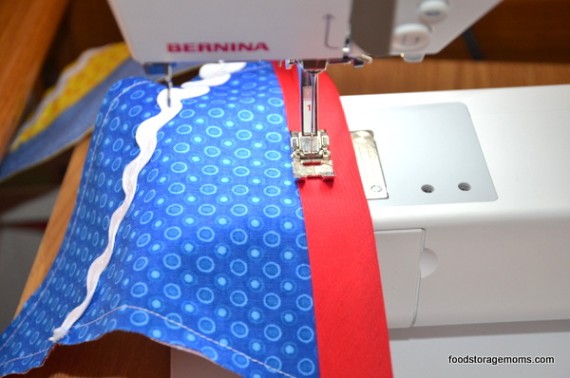 Here I am folding over the bias tape.  It's kind of like you are doing a waistband.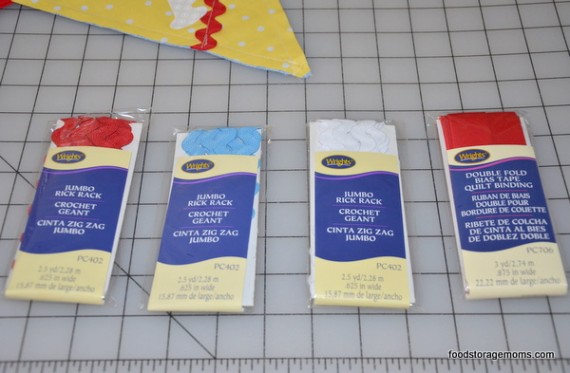 Here are the items I used, Jumbo Rick Rack and Double Fold Bias Tape/Quilt Binding. You can also make your own bias tape, but I was making way too many of these to that……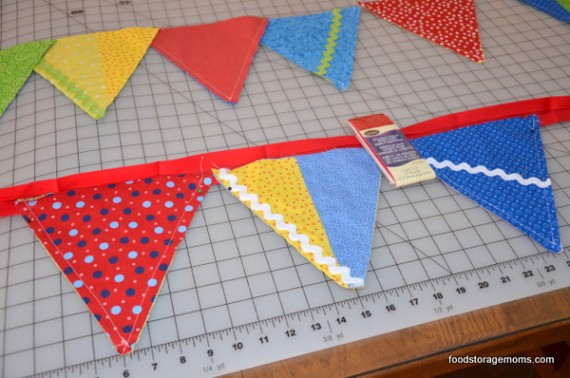 The next step is to cut out letters (white fabric) for the banner using double stick iron-on fusible web fabric. I used an AccuQuilt  (alphabet) so I could cut out the letters shown. You can also cut out the letters by hand by tracing the letters you want after ironing the white fabric onto the fusible fabric. You cut out the letters on the fusible fabric so you can iron the wrong sticky side onto the finished triangles that are totally sewn and ready to hang. You need to remove the paper from the letters and then iron them on the triangles.
Here is another set I made for my daughter who teaches pre-school: