How To Bake Perfect Eggs-Hard Boiled-Every Time
Have you heard how to bake perfect eggs? We can call them baked or hard boiled. I used my Sun Oven to bake these because I can never go back to boiling them over the stove. This is the easiest way I know how to to make hard boiled eggs (baked). Just think of all the recipes you can make with hard boiled or baked eggs. I love them sliced in a fresh garden salad. Sometimes I chop a few in a bowl, add butter, salt, and pepper. This makes a fast and easy breakfast or just a snack.
Now here's the deal, I baked these in a Sun Oven. Yes, I am still cooking off the grid and having fun doing it, although I am anxious to have that gas line run so I can have a gas stove installed in my kitchen. WooHoo! I can do some canning again in the house and not outside on my Camp Chef stove. That glass top stove/oven just about pushed me over the edge. Of course, it didn't! LOL! I have not had a gas stove for nine years. Where I live the electricity prices are outrageous. In fact, a lot of people move in and then quickly move out of our subdivision because the utilities are twice the cost of the other Southern Utah areas. I would love to move from here for that reason, but that's not going to happen anytime soon.
To use the Sun Oven you basically place the Sun Oven in a sunny location and let the temperature rise for about 30 minutes. I baked these at 350 degrees for about 40 minutes. Easy. This time I did add water to the non-shiny muffin tin because I have baked them before without water and it left a few more "speckles" on my eggs than I would like. They still peeled really easy and tasted great. You might want to try and bake with or without water and see which you like best. Here is a link to my first baked eggs in a Sun Oven post.
Bake Perfect Eggs In Sun Oven: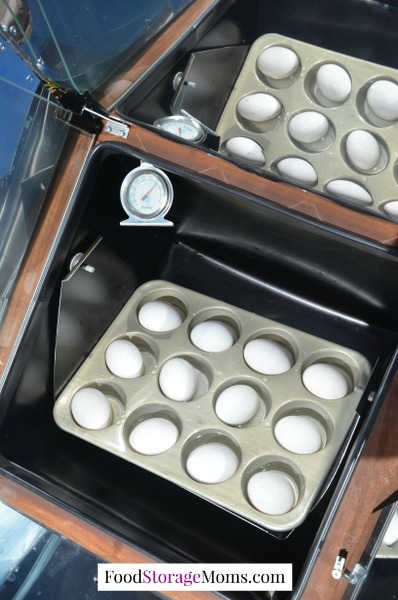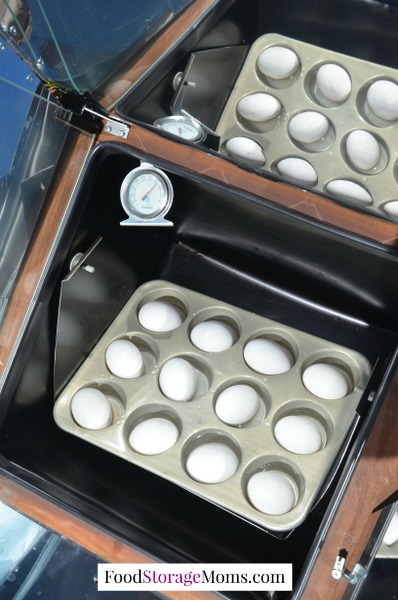 Cold Eggs In Muffin Tin
You basically take cold eggs out of the refrigerator and place the amount you want to bake in a non-shiny muffin pan. I poured about 1/2 an inch of water in each muffin cup with every egg. Water is optional. The reason you must use a non-shiny pan in a SunOven is that if you use a shiny pan it will reflect the sun away and items won't bake correctly.
Harmless Hot Spot Speckles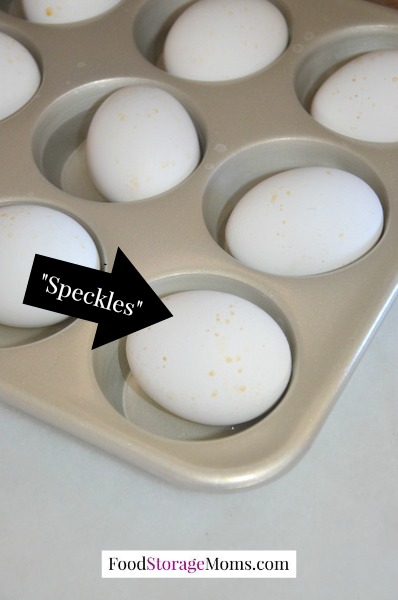 You do not need to be worried about the "speckles". These are harmless hot spots. After forty minutes of baking, I brought the eggs into the house to start peeling them. The first time I baked the eggs I plunged them into the cold icy water like I used to do when boiling on the stovetop. Nope, you do not need to do this. This is really so much easier than watching a boiling pot! I hope you try this easy way to make perfect eggs soon!
Here is another post showing how to make egg muffins, my favorite!
How To Bake Perfect Eggs
1-12 eggs directly from the cold refrigerator. No need to have them at room temperature.
Fill the muffin cups with ¼-1/2 inch water for each egg
Place the desired amount of eggs in the muffin pan
Instructions:
Place the SunOven in direct sun and preheat to 350 degrees. Bake @ 350 degrees in SunOven for 40 minutes. Remove the muffin tin from the oven and run the eggs under cold to remove shells. Refrigerate the eggs.
Preheat conventional oven to 350 degrees. Bake @ 350 degrees in the conventional oven for 30 minutes. Remove the muffin tin from the oven and run the eggs under cold to remove shells. Refrigerate the eggs.
PRINTABLE recipe: Recipe by Food Storage Moms